While Bossier has a ton of options for the family, sometimes you just need a night out with your significant other or with a group of friends. Luckily, there are plenty of options for your night on the town.
Michael Byrnes is a husband and father of four. When asked what he and his wife do when they're kid-free for a night, Michael joked, "I think the answer to that is sleep," he said with a laugh.
But answering seriously, he said that when he and his wife do go out for a night on the town, it's usually because there's a big social function, like the upcoming ARTini event. But he also noted that they sometimes will go see a movie or go to a restaurant to catch up.
"Sometimes if there's a big movie and it's not exactly for kids, we'll go without the kids. That opening night is our time together, we go by ourselves," Michael said. "One of our favorite restaurants is Posado's and we go there by ourselves for an easy dinner."
He said that some of the attractions around town are when he and his family get to spend time together, rarely do they go bowling or to the Louisiana Boardwalk for a date night.
"If we go somewhere by ourselves, usually it's just to sit down and talk," he
said.
The Bossier City native toured the world and then retired from the Air Force after 24 years. But he knew he would return home.
"I know a lot of people here, and I'm familiar with the culture. It just feels right,"
he said.
After getting his graphic design degree from LSUS, he began working as the community development coordinator for the Bossier Arts Council. And although his job requires him to interact with the community, he says he doesn't feel obligated to attend social functions. Instead, working at the BAC has merely opened his eyes to all the goings on in the area.
"I just have more exposure. Before I worked here, I wasn't familiar with all this stuff going on. Now my ear's to the ground," Michael said. "I don't feel compelled because I work at the Bossier Arts Council. My wife and I just go because it's fun."
Courtney Pugh, a graphic designer for Donnie Bell Design, is a resident of Shreveport who frequently crosses the river to have a night out with friends. And his favorite thing to do is to hit up the Louisiana Boardwalk and go to the movies.
"I enjoy getting to see movies when they're first released, on a giant screen in a large theater," Courtney said. "And now theaters are adding more comforts — seating has evolved, they're expanding menus at the concessions — plus it's affordable."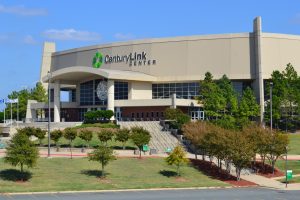 But he also is a fan of seeing live music and he's recently attended three concerts at the CenturyLink Center. He notes that as the largest venue in the area, it allows him to see bands and artists with star power.
"It allows for a large stage performance and production," he said. "It also has free parking and there's not a bad seat in the house. I sat in the nosebleeds for Paul McCartney and I still had a good view of the show."
Some of the local attractions Courtney likes to hit up for a night out with friends is Holiday Lanes, saying it's special because it's a good excuse to get everyone together and make fun of each other for how bad everyone is playing.
And if he goes to dinner in the evening, he is a fan of the East Bank District. Courtney says although he doesn't drink, he still enjoys a good pizza and taking in the beer garden at Flying Heart Brewing and Pub while his friends sample the various brews. He says if he wants a more high end dinner, he is a fan of L'Italiano and its "amazing" food. Lastly, he's looking forward to getting to try the newly opened Bayou Axe Throwing Co. for a night out.
"In East Bank, there is a good mix of restaurants and they are getting more things to do, so it gives you options, and it's a good way to get everyone together," Courtney said.
But there's plenty to do in Shreveport, why come this way?
"Why not?" he answered. "Bossier has some things that are unique to itself that aren't in Shreveport. Plus, I have friends who live there, and they can tell me about new things popping up and new things and we can go out to try those things together."
Want to bring the kids along? Check out these family friendly things to do in Bossier.