The rumble in the skies this weekend won't be thunder, it will be the sound of freedom filling the airspace above Barksdale with the return of the Defenders of Liberty Air & Space Show at Barksdale Air Force Base, May 18 and 19, beginning at 11 a.m.
The 2019 air show will feature a headline performances by the Canadian Force Snowbirds, the F-35 Demo Team, "Tora! Tora! Tora!" bombing of Pearl Harbor re-enactment, the Black Daggers jump team, and many more. There will also be static displays of modern and historic military aircraft including the B-52 Stratofortress, B-1 Lancer, B-2 Spirit, and more.
"People should expect to see the latest and greatest our Air Force has to offer," said Kevin Martin, head of Martin Creative who handled marketing and public relations for this year's Defenders of Liberty Air Show. "Visitors will be amazed with the F-35 Demo. The F-35A is an agile, versatile, high-performance, 9g capable multirole fighter that combines stealth, sensor fusion, and unprecedented situational awareness."
Martin said Barksdale is very excited to welcome back the Canadian Forces (CF) Snowbirds as the featured flight team this year.
The Snowbirds fly the Canadair CT-114 Tutor, a Canadian-built jet that was used by the Canadian Forces as a basic pilot-training aircraft form 1963 until 2000. The Tutor weighs approximately 7,170 lbs., with a wingspan of 36.5 feet, and is powered by a J-85 engine producing 2,700 pounds of thrust. The Snowbirds fly nine planes in formation, often five abreast, which means all nine planes are within a 70-yard radius.
He added that it has been more than 10 years since there has been any pyrotechnics at the airshow and they are back with a literal boom thanks to the "Tora! Tora! Tora!" re-enactment that he says will bring the crowd to their feet.
The show is a re-enactment of the bombing of Pearl Harbor and is one of the featured acts at this year's air show.
"We are one of only eight scheduled performances in 2019," Martin noted.
Another exciting performer will be the Black Daggers, the official U.S. Army Special Operations Command Parachute Demonstration Team. Their mission is to perform live aerial demonstrations in support of Army Special Operations community relations and recruiting. They will open the airshow and will also perform a HALO jump.
Martin also pointed out that attendees should be sure to catch the Aftershock Jet Fire Truck. Aftershock can travel at 400-plus mph and is the world's fastest fire truck according to Guinness. Aftershock is powered by twin Rolls-Royce Bristol Viper Jet Engines totaling over 24,000 horsepower.
Barksdale officials estimate that the biennial event, which takes place in odd-numbered years, attracts more than 200,000 attendees from the local, regional and national area.
"The airshow is one of the best recruiting tools for the Air Force. With over 200,000 expected visitors over the weekend, Barksdale AFB has the opportunity to showcase to our younger generation a career they might now of thought about," Martin explained. "It will also bring people to our area that will eat in restaurants and stay in hotels and shop."
Held for the first time in 1933, the Barksdale Defenders of Liberty Air & Space Show serves to enhance public awareness of U.S. Air Force capabilities and the Barksdale Air Force Base mission. Barksdale Air Force Base, home of the 2nd Bomb Wing, is America's premier strategic bomber base, housing three squadrons of B-52H Stratofortress bombers.
The event is organized and hosted by the 2nd Bomb Wing Barksdale Air Force Base with the support of the Shreveport-Bossier Military Affairs Council.
"The airshow is important for Barksdale. It brings a lot of people here to area," said Scott Alexander, president of the Military Affairs Council (MAC).
Martin said working with the MAC has been a great experience.
"They set up a tour of the deployment facilities and staff for me and new MAC members. Everyone of the airshow team is dedicated to bringing our community a top notch show that will leave you wanting more," he added.
For those who want a more in-depth…less noisy, but just as stimulating experience, head over to the STEM Zone. Sponsored by STARBASE Louisiana, young people in attendance can take part in fun activities and exhibits that teach science, technology, engineering, and math. STEM Zone exhibits will include a tornado generator, virtual reality, and drone technology. Visitors to the STEM Zone will also have the opportunity to learn about the next generation of space exploration with NASA, build and throw chalk bombs to make airplane art, and much more.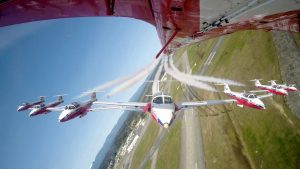 Admission to the Barksdale Defenders of Liberty Air & Space Show is free and open to the public. Martin said there is plenty of viewing area, but parking can be an issue if you show up late. Organizers are strongly encouraging car pooling.
"For the newcomers, have a camera ready as you make memories for a lifetime. You can bring a water bottle and there are refill stations in the viewing area. There are concessions and a shuttle that will run from parking area to entrance of airshow," Martin said.
For any additional information, including security questions visit, www.barksdaleafbairshow.com.
2019 Airshow Line-Up
*Airshow starts at 11 a.m.*
U.S. Army SOC Black Daggers
AfterShock Jet Truck
Dave Leedom – Pitts Special
Tora! Tora! Tora!
Acemaker
Global Strike Flyby
B-1 Single Ship Demo
Nuclear Capabilities Flyby
Air Refueling Demo Flyby
KC-135 Single Ship Demo
Mass Enlistment
B-52 Wall of Fire
Jeremy Holt – Pegasus
P-51 Quicksilver
Randy Ball – MiG-17
F-35 Demo
Heritage Flyby
Black Daggers HALO Jump
Kevin Coleman – Edge 540
AfterShock Jet Truck (Race)
AeroShell
Rob Holland – MXS-RH
CF Snowbirds – 9x CT-144
Photos courtesy of Martin Creative