A sport that has been sweeping the nation and has even secured itself a seat in the 2020 Olympic Games has arrived in Bossier City. Risen Rock Climbing Gym celebrated their Grand Opening over Easter weekend and is quickly getting the attention of local fun, fitness and family-activity enthusiasts.
Kelly Phillips is the founder and executive director of operations at Risen Rock, and though not a rock climber herself, she says the sport has had such a profound impact on her life. So, she decided to share it with others.
"When we lived in Fort Worth, we had a really sweet family that lived next door to us.  We became immediate best friends. Our kids were the same age, so we were always doing things together." Phillips said. "We'd go back and visit them.  They had a child who had a sensory disorder and she was struggling in school: she was introverted, she didn't have a lot of confidence. Well, they got her into rock climbing, which was a random thing.  We would go and watch her compete. We would stay all day. We loved it! It was such a fun family sport. So, when we travel or go on vacation, we'd seek out other climbing gyms."
Phillips had a successful career in I.T., a field which she loved, but quite suddenly after a mission trip in Cincinnati during the summer of 2017, she knew that her heart was no longer in the same place.
"I would sit in my cubicle, day after day, and I just couldn't do it anymore," said Phillips. "I knew I wanted to do something more, I just didn't know what that looked like."
Phillips prayed for her calling and over her situation relentlessly, until one day, her husband surprised her with the idea of a rock climbing gym. It was the answer to the question that had been steadily tugging at her heart.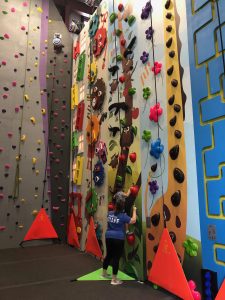 "It's a hugely growing sport around the world. It's a great family sport, and I had wanted an activity that encourages the entire family to do it together," Phillips said. "We saw our friend go from a child who was very introverted and struggling in school, gain a lot of confidence, she was able to get off her medication and was able to just blossom and be a joyful child. We want to see more of that."
Risen Rock Climbing Gym offers a wide variety of challenges. Aside from the 37' nationally certified speed wall, there is a lead climbing section, a 35' top-ropes section, a fun and whimsical wall for children and families, an innovative top-out boulder, and a 15' boulder section.
The gym offers a shared membership with the neighboring Christ Fit Gym. Fruits of the Spirit is also next door, and the staff of Risen Rock can set spectators up with a latte or smoothie while they watch climbers work their way up the wall. A second story balcony offers a great view of the gym with comfortable tables, chairs and Wi-Fi.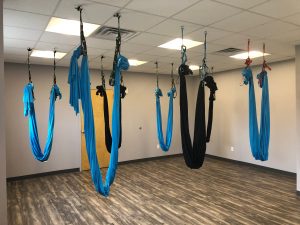 Aside from rock climbing, the gym is also partnering with Empower Yoga of Benton to offer aerial yoga classes in which participants practice yoga stretches and poses from elevated silk slings.
There are summer camps for the kids, as well as, after school programs which shuttle children from their schools to the gym daily during the school year. Some new schools will be added to the program this year, so all North Bossier residents should be on the lookout to see if your child's school is one of the lucky ones. Birthday parties are also a big hit, with private rooms and plenty for the little ones to do.
Unlike many other gyms, Risen Rock offers a wide variety of ways to engage in the fun. Regular monthly memberships, punch cards, and day passes are just a few of the ways to get climbing. It is a goal for Risen Rock to accommodate as many people as possible by working with an individual's schedule and needs.
Aside from wanting to develop a competitive team, Phillips is also working on making the gym a place for people with disabilities.
"People with disabilities, whether it is mental or physical, are no different on the wall than everybody else," she said.
Risen Rock is working with Paradox, a climbing association that works with people with disabilities, to build a program with the Risen Rock staff so that disabled members of the community can exercise and enjoy.
Location: 1060 Chinaberry Drive
Hours: 10 a.m. to 8 p.m. Monday-Thursday
10 a.m. to 10 p.m. Friday and Saturday