Having some form of higher education has become the standard in many professions, and choosing the right school can be a challenge.  Factors like accreditation, campus accessibility, and cost all play a role in determining which school to enroll in. Here in Bossier Parish, we are truly fortunate to have an outstanding community college that offers so much and at a far lower cost than many other institutions.  Take a closer look at Bossier Parish Community College (BPCC) with these 5 things that you might not have known!
1. BPCC offers classes online
It is awesome that the BPCC campus is right off both highways on East Texas Street, but sometimes taking classes online is easier. That's why BPCC has some or all of their courses online! The bonus here is that students taking online courses can still enjoy the benefits of being a traditional student with services such as free tutoring in the tutoring center, in-person meetings with advisors, team sports, and extracurricular activities.
2. BPCC prepares its students for the workforce

What could be better than earning your certificate or degree knowing that you are learning what you need to be a success?
Internships required in several of the technology-based programs place students directly into the hands of cyber companies that will give them life experience.
"In our Technology/Engineering/Math Department, they work closely with all the cyber companies in town and work with them on curriculum building and that type of thing," said Tracy McGill, Director of Public Relations for BPCC.
BPCC is also a Louisiana-registered sponsor for Industrial Maintenance Technician and Electrical Technician occupations by the Louisiana State Apprenticeship Council.  This allows companies in need of employment, both locally and throughout the state, to contact BPCC in order to help fill their positions. These employers can access students that have already completed the programs and students who are currently enrolled.
BPCC's Project Director for Work-Based Learning and Apprenticeships, Beonica Frazier, said that, "Apprenticeships are a win for employers, filling their hard-to-fill positions. It's a win for apprentices, who learn a career and earn a salary, and a win for community colleges, by meeting their mission and increasing their completion and retention rates."
3. BPCC is the only 2-year/4-year college in Louisiana to have earned the Gold Distinction as a Military Friendly® School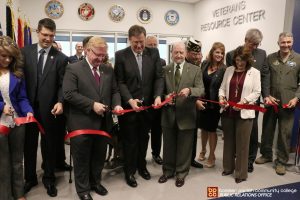 The Veterans Resource Center, which opened in November 2018, is located on the fourth floor of the H-building. The office is welcoming, stylish, and comfortable with a great lounge area that offers fresh coffee as well as snacks for both veterans and their companion animals!
"Any military student can come there," said McGill. "We have a lady that's in charge, a program coordinator, and she knows what needs to be done to help the military student with their GI Bill and all that kind of stuff. Her husband was military. She helps them tremendously and gives them resources and that is something that we love."
4. Continuing Education offers non-credit courses for people who wish to expand their knowledge
Non-college credit certifications and licensing preparation are available in the areas of Real Estate, Food Safety, Insurance, Paralegal, Healthcare, and Notary Public. There are also a wide-variety of adult learning courses in things like floral design, guitar, computer skills, cooking, sewing and more! These low-cost classes offer a great way to keep learning and go after those hobbies that you have always wanted to learn or master!
5. BPCC has a lot for the public to enjoy
The Donna Service Art Gallery, named in honor of a former art instructor and professional artist, is host to about five exhibits each year. The Gallery features local artists' works in various mediums. On display until July 19 is sketch artist Mike McSwain. McSwain is generously donating proceeds from sales of his art at the show to the BPCC Scholarship Foundation.
BPCC's Theatre Department stages plays for the public each year as well, always including one for geared for children (though adults seem to love them, too). Its Music Department schedules a calendar of public concerts featuring choir, jazz, and various other ensembles, and BPCC athletics invites crowds to cheer students on in sports like basketball, baseball, softball, and cross country. Starting this year, fans can also go to campus to watch the new indoor track and field! There is always something fun for the family to attend, so check the BPCC calendars and Facebook page to stay up-to-date.
Whether you are a new student, a student currently enrolled at another institution, or someone just looking to expand their knowledge and skills, BPCC has something for everyone.
Here are some links to help you get started: