From catfish to queso, we have a little bit of everything here in Bossier Parish, and one style of cooking that is a favorite to all is barbeque. Check out these restaurants in Bossier serving up some BBQ goodness:
1. Silver Star Smokehouse
If you haven't eaten here, you are really missing out! Silver Star has it all: Fall-off-the-bone pork ribs, divine turkey, moist and tender brisket, and cheesy potatoes au gratin!
Renee Procell is the General Manager of Silver Star Inc. and says that the number one thing that keeps people coming back again and again is consistency.
"That is number one: Consistency. We get up and do the same thing every day. It's been the same way every day since 1997."
Procell also attributes the menu's success to the high quality of the meat and all of the homemade sides and sauces.
It might be the consistency, the quality of meat and sides, the professionalism of the staff, the beautiful and inviting atmosphere, or maybe a combination of it all. But whatever it is that Silver Star Smokehouse is doing, it works to make your dining experience not just enjoyable, but unforgettable.
2. Bodacious Bar-B-Q
If you are feeling hungry in South Bossier, this is hands down the place for you! Located on Barksdale Boulevard near the CenturyLink Center, this local hot spot has been cooking up great BBQ since 1999. Owned by Louis and Terry Reuther, Bodacious offers an array of dishes which represent the places the couple has lived, such as Po-boys, Red Beans and Rice, Texas-style BBQ sauce, and smokey barbecue meats.
"Our barbeque is delicious," Terry says. "It's great and we've been doing it the same since we opened up. It's a little bit of Texas, but we're from New Orleans originally and now we've lived here!"
Loyal lunch crowds dine on the house favorite, The Botato. The Botato is a tremendous potato loaded with butter, sour cream, chopped brisket, and melted cheddar cheese. This filling choice is moist, delicious, and definitely crave-worthy.
3. Uncle Henry's Smokehouse BBQ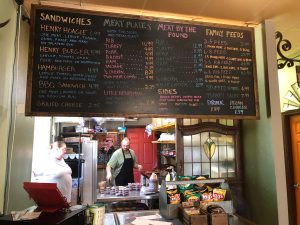 This little restaurant is packing big-time flavor! Don't just pass by Uncle Henry's Smokehouse BBQ when you are driving on Palmetto Road to Benton. You gotta make a stop! The friendly staff is hard at work and eager to feed customers from a menu boasting generous smoked meat plates, housemade sides, and amazing hoagies.
"We put a lot of heart and time into our food," says Daniel Burton from behind the counter. "We've perfected these recipes over the years, and we make everything from scratch."
While there is a lot of buzz about the ribs at Henry's, a customer favorite is the Henry Hoagie with the smoked turkey. This sandwich is hearty enough to fill you up for the day, and delicious enough to make you want to eat it all at once! The turkey is smokey and very moist, the veggies are crisp, and the bun is sweet and just right for this sandwich. An absolute must-try!
4. Joe Cobb's Bar-B-Q
Cobb's is a landmark favorite that has been treating the parish for decades. This old fashioned "mom and pop" style shop still does not take credit cards, but offers a variety of BBQ classics from a timeless menu.
Sandwiches and plates are the brag of Cobb's, with chopped beef leading the choice of meat for sandwiches and Po Boys. While customers rave about the delicious barbeque, Mrs. Sue Cobb receives just as many compliments for her outstanding service, her kind conversation and her love for the restaurant.
Located just east of the East Bank District off of McCormick Street, this Bossier institution has a comfortable booth waiting for you to slide in and enjoy a real old-school BBQ meal!
5. Podnuh's Bar-B-Q
On the busy end of Benton Road near Old Minden Road, you will find Thaylia Odom, the manager of Podnuh's, ready to serve you some love-filled barbeque with a smile and speedy service. Thaylia has been putting her touch on the food at the Podnuh's Bossier location every morning for years and you can taste the dedication.
Each side is made fresh every morning. Delicious and tangy turnip greens, creamy potato salad, and sweet and smoky baked beans are perfect accoutrements to a variety of meats. While the beef and pork are big sellers, Thaylia says the turkey is "to die for." Thaylia takes great pride is everything that she serves and it is clearly reflected in the quality of the dishes.
"If you love what you do, then your food will be good," Thaylia says. "But you have got to love it!"
6. Shane's Seafood and BBQ
While well-known for their fried catfish, Shane's is also plating up quality barbeque for folks every day. Whether you are in the mood for a smoked half-chicken or some St. Louis style ribs, Shane's bustling staff is ready to cook up whatever your heart desires.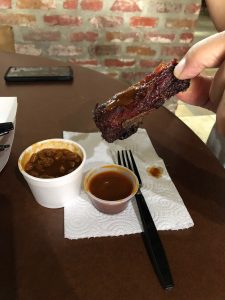 Samantha Davis has worked for Shane's for years and sees the work that goes into preparing the meat every day.
"You have to have the heart," she says.
Shane's diners love the large portions and sides like hushpuppies, red beans, or baked beans with chopped brisket.
Other restaurants that are getting love and attention from Bossier locals are King Jerry Lawler's Memphis BBQ and Dickey's Barbeque Pit. So, the next time you are hungry and want some awesome food with customer service to match, don't forget to check out these BBQ restaurants in Bossier!