English version: Bossier Parish Community College (BPCC) offers the opportunity to better integrate immigrants by teaching English and offering the HiSET classes.
El crecimiento de esta región es lento pero constante y cada día son más las personas que hacen de Bossier City su hogar. Oportunidades de trabajo y educación son la clave para que gente de otros países encuentren aquí una ventana para su crecimiento personal. Doctores, ingenieros, maestros, militares, empresarios y muchos otros inmigrantes, buscan adaptarse a este país ó a sus familias. Bossier Parish Community College ofrece la oportunidad de integrarse mejor con el aprendizaje del inglés y las clases de HiSet.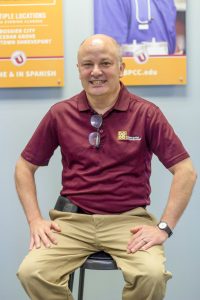 Mark Hux es el coordinador del de ESL para BPCC, un programa diseñando para ayudar a los inmigrantes y a cualquier persona que desea aprender inglés. Mark se ha ganado el cariño de cientos de estudiantes que pasan por su salón de clase todos los días.  Él y su equipo de maestros hacen sentir bienvenido a cada individuo que asiste a clases y el impacto que están haciendo en nuestra comunidad es realmente considerable.
"El programa de ESL empezó en 2010 con una docena de estudiantes y ya son más de 1000 personas. Estamos honrados de cambiar la vida de los inmigrantes en esta área. Hemos visto como muchos tienen una excelente profesión en sus países, abogados, doctores, etc.. Nuestra meta es ayudarlos a alcanzar un nivel de inglés para que realicen su vida profesional aquí, como en sus países", expresa Mark.
Lupita  Soto es la coordinadora de HiSet un programa en español que ayuda a inmigrantes a revalidar sus estudios de secundaria y preparatoria. Ella ha impulsado a muchos estudiantes a continuar con sus carreras universitarias  aquí.
"Para 2020 será un requisito esencial para que todas las personas puedan conseguir un trabajo o aplicar para una universidad. El programa está abierto para todas las personas de cualquier nacionalidad y es totalmente gratis."
La inmigración es parte de las raíces de esta nación y BPCC contribuye por medio de la educación al crecimiento de ella.  Los inmigrantes en Estados Unidos continúan alcanzando más títulos universitarios y altos niveles educativos y en cuanto a su aportación económica, muchas de las compañías más grandes han sido fundadas por  inmigrantes o hijos de inmigrantes. Sin mencionar que nuestro presidente tiene raíces inmigrantes y nuestra primera dama no hace mucho obtuvo su ciudadanía. La integración y desarrollos de programas educativos es la llave para que las comunidades continúen creciendo y el país también y BPCC lo sabe muy bien.
En Bossier City, varios empresarios y profesionistas, incluyéndome a mí, hemos tomado clases de BPCC y nos hemos visto beneficiados con programas así, que sin duda a muchos nos cambian la vida y nos convierte en mejores ciudadanos, con mayores posibilidades de retribuir a este gran país.