Coming to you from KPAW! Star athletes, short films, school announcements, choreographed cheering and dancing at Parkway High School in Bossier, all written, directed, produced, filmed, technically enhanced and set to music by students to air every school day. Also playing on YouTube!
KPAW, the Parkway closed-circuit television system, is just one of the innovative ways theatre instructor Julie Edwards encourages her students to participate in media and the arts, particularly theatre.
Edwards, who has led the Parkway High School theatre program since 1984, has directed, acted, written scripts, designed sets, and taken on just about any task necessary to get a play from page to audience. Her favorite work is designing the lighting. She was voted Best Lighting Designer for Caddo/Bossier parishes, and she designed lighting at the Kennedy Center. Edwards was also offered a light designer job at an Off-Broadway theatre.
"I have been the lighting designer for Marjorie Lyons Playhouse, East Bank Theatre, and now I'm currently the lighting designer for Rose Park Baptist Church, Shreveport Little Theatre and Emmett Hook Center."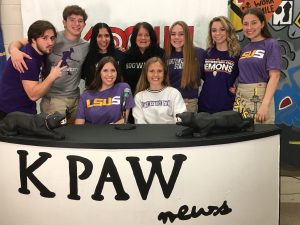 At one recent class at Parkway, 24 lighting students were learning the technical aspects of using "lamps" (lightbulbs), "color gels" (filters) and light placement for the stage. Then they were given Rosco Swatchbooks and assigned a graded project – selecting lighting and effects for a video of their choice.
"I absolutely LOVE my job! I try to reach out to as many students as I can to show them teachers do care," said Edwards.
Parkway theatre graduates work at CNN and the Weather Channel, and have appeared in movies and on TV, said Edwards. Actor Blayne Weaver made his film debut in the TV movie "The Flood: Who Will Save Our Children?" while he was still at Parkway. He is now a successful actor, writer, producer, and director in movies and TV.
"I've always loved the arts and theatre, so I developed our curriculum in Bossier Parish for Technical Theatre I and II," said Edwards. "I wanted to teach some of the major theatre classes that I took in college – Set Design, Theatre Makeup, Lighting, Costuming, and Acting."
Edwards has directed Frank Bailey's 1999 play "Beyond the Grave" (based on the Columbine school shooting) for almost 20 years at Life United Church (formerly known as Word of Life).
Her classroom, set design area, storage and the KPAW studio are a labyrinth where ongoing stage and broadcasting projects share space with movie posters, newspaper articles, art, a clock with a reversed face, photos of dogs and people, stage sets, backdrops, tons of screens and equipment, and lots and lots of sharks. She's a "Shark Week" superfan.
Edwards and the other theatre teacher at Parkway, her daughter Gretchen Phillips, produce one play a year, usually a musical in the spring, and a variety show in the fall.
"I try to get them the opportunity of 'hands-on' experience," said Edwards. "I teach them to use a drill and handheld screwdrivers, how to paint, create a backdrop and even how to make an Ethernet cord. By teaching broadcasting and developing Parkway's KPAW broadcasting class, I obtain press passes for my students."
This has allowed students press access to Rosie O'Donnell, Jack Kemp, Al Gore, Tipper Gore, and Presidents George W. Bush, Bill Clinton, and Donald Trump.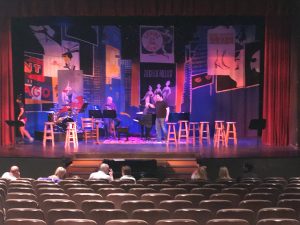 A graduate of Northeast Louisiana University with a B.A. and Master's in Communication with an emphasis in Theatre, Edwards was certified to teach at Centenary College. She hopes to eventually reach out to all Bossier Parish high schools to help them start TV production classes.
"To my student graduates, I hope they will achieve confidence whenever they speak or present themselves … learn to be positive and handle any situation."