Thousands of people filled the CenturyLink Center in Bossier City to near capacity on Thursday, November 14, to see President Donald Trump. He was there to rally for Louisiana gubernatorial candidate Republican businessman Eddie Rispone. Rispone is in a tight race against incumbent Democratic Governor John Bel Edwards. The election runoff is Saturday and this is the 2nd time in two weeks the President has come to Louisiana to drum up support for the Republican candidate. This was the third trip the president made in a month drumming up support for Republican gubernatorial candidates which resulted in Rispone gaining more votes in the primary than Republican Congressman Ralph Abraham.
CenturyLink Center located in south Bossier offers just under 15,000 seats and considering the more than 10,000 fans who attended Trump's rally in Monroe the previous week;  officials from CenturyLink expected this event to be well attended also. Especially after the initial public reaction and inquiries when Trump's Bossier plans had been officially confirmed a few days earlier by Congressman Mike Johnson (R) who had been working with the president for weeks.  A web portal was set up providing easy access to free tickets to the event on a "first-come/first-served" basis.
Many Trump supporters lined up for hours ahead of time at CenturyLink Center to assure a spot in line and to gain admission inside to see and hear the president speak. Many were from out-of-state, some reportedly from as far as Wyoming, the lower Midwest and all over Texas.  There were some recreational vehicles in the CenturyLink parking lot as early as Wednesday night.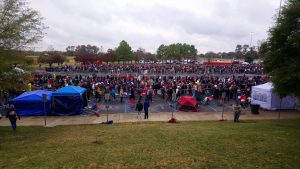 Although the public admission didn't begin until 5 p.m., thousands of Trump fans jammed into the parking space to enjoy a multimedia giant digital display as programs were televised outdoors.  The display also provided any overflow crowds unable to gain entry a chance to see and hear the president from inside the venue. There were also several food trucks providing hot beverages to ward off the unseasonably cool temperatures. And food ran the gamut from hamburgers and sandwiches to gumbo and barbecue.   
Dozens of souvenir vendors were selling caps, shirts, hoodies, jackets and other assorted Trump memorabilia. While it was quite chilly waiting outside in the drizzle before the venue doors opened, people kept in good spirits in what could best be described as a festive atmosphere.  Kayleigh McEnany,  National Press Secretary with the Trump Campaign shared some expectations prior to the start of the rally.
"We expect a full-house tonight as it is at every Trump rally," McEnany explained. "I lose count (on the number of rallies done so far), I was in three states last week alone in the course of five days. The president has done a lot of rallies safe to say."
President Trump took to the platform around 7:30 after a short drive from Barksdale Air Force Base where Air Force One landed.  Security was very tight as everyone entering the building had to go through a security check and there were restrictions on what could and could not be brought inside the venue.  The event was televised or streamed on major news networks both in the United States as well as in parts of Europe.