As a child, Danny Foots always found an escape in movies and television shows. Specifically, drawn to sci-fi and fantasy because of their far-flung ideas about what reality could be, Danny says this pastime evolved into a desire to not only watch films but to create them as well.
"I want to try to instill that feeling I had from these movies into others," he said. "My strongest ability is to take everything and have it make sense. I get to put all my creativity into my work. A part of me always makes it into the final product."
Now, an editor for CRM studios, Danny is all over Bossier, Shreveport, northwest Louisiana, and even the country, making his dream a reality. 
"I have been incredibly fortunate to have landed what I am truly able to call my dream job. I get to travel all over the country, see into countless walks of life, and interact with people who I would otherwise never look at twice. Everyone has a story, and I want to tell as many of them as I can with my edits."
The 34-year-old native of Oregon got his first involvement in video production through Bossier Parish Community College as the camera operator for the BPCC news. That lone job would evolve into taking part in all aspects of producing the news — from running the camera, teleprompter, Grass Valley machine, and audio board en route to becoming the news director and eventual anchor. 
He said all of these jobs had their own positives and negatives, but being behind the scenes, doing what he called "the gritty part of the production," is something he fell in love with. 
In hindsight, Danny says that his time at BPCC prepared him more than he could have ever realized. The No. 1 thing he took from his time at BPCC is that he has to be prepared and expect anything to happen.  
"You can prepare for everything and still get hit with anything. Every time we had a teleprompter go down while on air, a package cut off before it was over, or something as simple as forgetting to turn off an anchor's microphone during a commercial break, those were the things that added up to a larger lesson."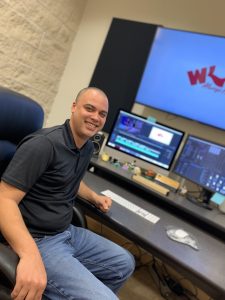 Eventually, Danny was even hired to create packages that are being used by BPCC for their OnDemand program, the college's flagship online training course for non-credential classes that are available nationwide. These involved various topics such as The Ten Tenets for Healthy Lifestyles and Financial Health, a course created by local ophthalmologist Dr. Karen Pendleton, to Security Clearance practices for those seeking high-ranking government-related positions.  
His experience there also led directly to his career at CRM, with his instructor Dr. Jonathan Elmore recommending Danny to a former work acquaintance Kevin Alexander. Danny said that while attending a friend's engagement party, Kevin sent a text message to Dr. Elmore asking him for a reference. At that time, Danny was standing next to Dr. Elmore.
"I had just finished sending off my 55th resume, seriously, that day looking for a job," said Danny. "Three days later, I had my interview."
He says he had become ingrained in Bossier City finding stories for the BPCC news and making short films for his classes. He describes Bossier City as a place that has an influential vibe. He says Bossier is a place where you can take an idea on a napkin and turn it into a living dream.
"It took me going to BPCC and working in Bossier to find the few connections in Shreveport that make me love what I do," said Danny. "People want to be in Bossier. They have pride in their products in Bossier City."
When he's not working, his hobbies include gaming/streaming on Twitch, collecting vintage tin lunch boxes, and watches "at least 15 movies" per month. That's why his favorite activity is seeing movies at the Louisiana Boardwalk's Regal Theater.  
"It is a place where culture completely unrelated to this region of the country can be enjoyed. While I can definitely appreciate Bossier and its Southern roots, I can't recommend enough the power of the movies. Film is one of the few things that can transcend any and all barriers."
That's why he would like to see Bossier have a drive-in movie theater in the future. He notes that Benton Road and Airline Drive have enough space to host such an attraction.
"Film could draw in crowds, it's unique enough to be successful. For example, there is a drive-in movie theater in Texas I have driven to four times in the last two years," Danny said.