Mardi Gras season is in full swing. This means parades, parties, and pastries. 
Some of you may have your designated place that you buy your King Cakes from, but we have a few suggestions on where you can get your fix right here in Bossier!
Lowder Baking Company at Birdwell's
You don't have to travel across the river to get your hands on these award-winning King Cakes from Lowder's. These King Cakes are made fresh and sent to Birdwell's with flavors varying each week. There's been traditional, cream cheese, strawberries and cream, and even chocolate chip. Don't want to feel obligated to share a large one? Birdwell's also has Lowder's minis available too!
"We love partnering and supporting local," co-owner Angela Pfanner said. "They are also great to work with!" 
Make sure you stop by Birdwells to grab a Lowder's King Cake and even a bag of Southern Belle Coffee. You can support multiple small businesses in one stop!
Prep Cakes Bakery Low Carb King Cake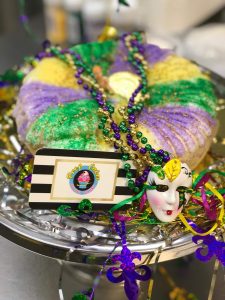 Thanks to Prep Cakes, if you're counting those calories or watching those carbs, you can have your cake and eat it too. Turaeza Hose has been challenging herself to create a low carb king cake that truly tastes like King Cake. After working on perfecting her dough in December, she has the recipe down. 
"The best part about having a low carb king cake is you can enjoy the season of king cakes without sacrificing your fitness and health goals," Hose said. 
You can order a cake through the Prep Cakes Facebook or call Sunshine Health Markets to pre-order one. 
Fat Tuesday Sandwich Shop & Bakery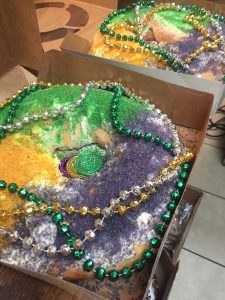 Now you know their King Cake will be good when the shop itself is Mardi Gras! This hidden gem in South Bossier actually sells their variety of King Cakes throughout the entire year! Their cakes are made from scratch daily- from the dough, made with fresh orange and lemon zest, to the delicious filling and the icing on top. 
At Fat Tuesday you'll find a variety of flavors, the traditional variety of cream cheese. Want to try king cake in a different way? Try their voodoo king cake bread pudding. 
When you stop by you can buy by the slice or even order a whole cake to share. Or not to share, we won't tell!
Joe Gambino's Bakery in Bergeron's Boudin & Cajun Meats
As if their fried boudin balls weren't enough of a reason to stop by, Bergeron's is selling Gambino's King Cakes. Yes! Bergon's is selling Gambino's Bakery King Cakes! 
"The goal of our store is to bring "down south" to the northwest Louisiana area," Alicia Andre, owner of Bergeron's said. "Gambino's is a staple in south Louisiana, world-famous, and a great company to work with." 
Here you can find a variety of flavors that are more traditional but oh, so good! Thanks to Bergeron's, NWLA can have a taste of down south during this Carnival Season!
Lilah's Bakery in Bossier Power Equipment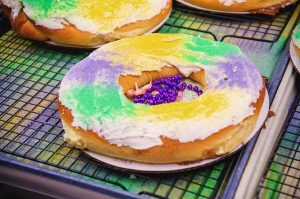 Lilah's brings its fresh King Cakes across the river and right into the city of Bossier. They have 28 different flavors of King Cake and even offer a gluten-free version. With multiple flavors of the week, you could try one flavor of the week, each week, until the end of Mardi Gras and not have tasted them all! 
"The best part of our King Cakes is the variety of fillings," Lisa Tike, co-owner of Lilah's Bakery said. "and that we are baking them fresh, right here, daily." 
Their freshly baked cakes and variety fillings include:
Tiramisu

Zulu 

Maple Bacon
You can stop by Bossier Power Equipment to pick up a Lilah's King Cake, you can shop around and support two local businesses while you do it! 
Tubbs Hardware & Cajun Gifts
For years, Tubbs has been a King Cake staple in the area. From their Traditional Cinnamon flavor to their X-Treme Cream Cheese, Tubbs King Cakes go fast once it's yours. You can even find strawberry and blueberry cream cheesecakes. Regardless of flavor, Mr. Tubbs' recipe guarantees you'll have moist King Cake!
These moist cakes have their clever tag line with them. "Tubbs' Original Recipe King Cake feeds 14 to 16 people or 10 to 12 Cajuns."
Tubbs even ships King Cakes throughout the continental US, so if you have a friend from out of the great state of Louisiana wondering what all this King Cake fuss is about, ship them a cake and let them see for themselves.
The Wooden Spoon
The Wooden Spoon isn't just good at delicious cookie baskets or yummy sandwiches and sweets. They are also good at creating beautiful and fresh king cakes for the carnival season!
 "A lot of our king cakes are made to order," Tammy Judge, owner of the Wooden Spoon said. "That way you are always guaranteed to get a fresh one."
Some of the fresh flavors they offer include: 
Cream Cheese 

Cream Cheese and Praline 

Strawberry and Cream Cheese

Blue Berry and Cream Cheese
Each cake is top with the signature Mardi Gras colors and delicious icing. Make sure you try a Wooden Spoon King Cake during this king cake eating season! If you want something smaller, they also offer a special Mardi Gras cupcake during this season. 
This Mardi Gras season, may your King Cake be sweet, and your parade catching hand be strong, and may you always find the baby in the cake. 
Happy King Cake eating and laissez les bons temps rouler!