Would it not be good for us all to learn how to calmly and effectively get our point across to someone who disagrees with us? Before persuasive civility becomes a lost art, Be Bossier sought out Emmitt Antwine, the fifth-ranked junior varsity intercollegiate debater in the U.S., for some tips that might prove useful before the next election or family reunion.
"Let me just say water is a debater's best friend, especially cold water," said Antwine, who attends Bossier Parish Community College while he is finishing his senior year at Airline High School. He is the top student debater in the junior varsity division and the only high school student in the top 50 list of debaters named by the International Public Debate Association, an organization conducting debates in 15 states.
As a freshman mentored by older students Cameron Abrams, Nandini Tivakaran, Jackson Todd, Amanda Watson, and Charlie Weathersby, Antwine said he "was taught about effective communication skills and creative argumentation, but the hidden lesson I cherish the most is that it is okay to disagree without being disagreeable."
Keep Calm and Carry On
"We win by bringing forth our strongest case possible. We are all different people with unique perspectives on a multitude of issues that impact our lives here in Louisiana and our country," said Antwine.
Charming, intelligent and unassuming, Antwine is well-respected by his debating peers and his coaches, Martha Claire Lepore and Dena O'Banion at Airline, and Bob Alexander and Preston Langley at BPCC.
"Emmitt is a great debater because he is such an eloquent speaker," said Lepore. "He has a kind yet an assertive way of making himself heard. He is also a wonderful listener. This skill is essential to debate and it sets him above the rest."
"I believe that Emmitt has only scratched the surface of his talent," said Langley. "Emmitt works harder than almost any other student I've ever seen and he takes notes to improve every week, and his performance absolutely reflects that."
"As debaters, we have to uphold our responsibility to explain and educate on each and every round so that we can expand our community to allow others in," said Antwine. "Diversity is what builds debate and that is why I genuinely enjoy this art."
He debates with the 30-member Airline Debate Team and the 15-member BPCC team.
Antwine also participates in the Beta Club, National Honor Society, and the Freshman Mentoring program.
Since September, his teams have debated at Lee College in Baytown Texas, Louisiana Tech, University of Southern Mississippi, Louisiana State University-Shreveport, East Texas Baptist University, and Northwest Arkansas Community College. He is frequently paired with BPCC debate team leader Keithen Lewis.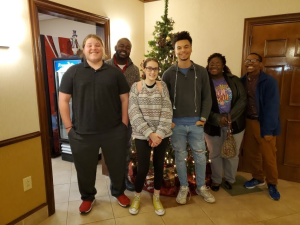 "What Emmitt is accomplishing is truly remarkable. Nationally, less than 1/10th of one percent of intercollegiate debaters are dual-enrolled high school students; and, while seniors often dominate the national top twenty-five, we're talking about college seniors and not high school seniors," said Alexander. 
"Debate is not only about the wins, is not only about the trophies or awards, or even about the relationships you make, it's about taking everyone in the round, including your judge and opponent to genuinely learn how theories interact with society, how policies shape everyday American's lives and ways to change the broken systems and make it better for us," he said.
He is preparing for the IPDA National Championship Tournament to be held at Tennessee Tech University in late March 2020. After that, Antwine will be off to college to major in Math at Louisiana Tech University. He plans to eventually become an engineer or an attorney.
"The lesson that I forever hold onto is to never limit myself in my abilities to go even further in life," said Antwine. "I waited so long in my life for just an opportunity to shine, and I finally seized my moment to rise higher and higher in my debate education."
Antwine says even with all his debate experience, education, hours of practice, awards and accolades, he doesn't always win.
"Most discussions my mom and I have, she can see right through my flowery language, especially when I do not wash dishes."