Local architect Mike McSwain describes himself as "a guy who just draws pictures for a living." 
"I've always loved drawing, I can't explain it. I make a living drawing and I draw for fun. It's something I am obsessed with," he shrugged.
But those drawings have become a part of the fabric of life in Bossier City — from designing Bossier Parish Community College and the Cyber Innovation Center to the redeveloped East Bank District, Mike and his team craft something that people will love long after they're gone.
"I love knowing that I spent my professional career working on things that will outlive me, knowing that when I'm gone, these things will still exist and be a part of the community. I love leaving a legacy behind that everyone will get to enjoy," he said.
While he has become almost the de facto architect for Bossier City projects, he has also designed homes for locals, the Sci-Port Discovery Center in Shreveport, condominiums in Indonesia, and a luxury estate community in China, among many others.
His love of architecture happened by chance while avoiding the heat on the Texas Tech Campus. He cut through the architecture college building and became enamored with the work being done. He changed his major and never looked back.
"I got really consumed with architecture and the idea of how it surrounds us everywhere we go. It changes our lives," Mike said.
From honing his skills at one of the biggest architectural firms in the country, Mike moved with his wife to her hometown of Shreveport and found it to be a rude awakening, admitting that he originally hated it. But he gutted it out and now feels more comfortable than ever with his position.
"I have a lot more experience and confidence, and that makes it a lot easier to deal with this job because I don't have normal days, so you just have to buckle up," he said.
Traveling has also helped shape his view on the world and his work. Seeing new countries and different cultures informs how he sees the world, and he often sketches spaces that help him remember certain designs, providing a template to craft unique urban planning. 
"I use these experiences to add to my mental library to pull from for our firm's design efforts," McSwain said. "But doing more progressive things is a risk. It is a risk. You're going to take bullets, so you need to be confident to lead with forward-thinking ideas."
Ultimately, he said his success comes down to listening, taking a client's thoughts and applying it to a design. 
"We're good listeners. All the projects look different because it's about the client, so we listen and put the words into the look of a building. Each one is a little different and makes a different statement," Mike explained.
That listening is his favorite part of the job. He says the learning process all ultimately manifests into architecture, but the more complicated and complex the client, the better for him.
"Everything we're doing is learning something new. For example, GDIT is an office building. But we're learning that firm's culture, their business model, and how they operate. You learn a lot from meeting people and working on these projects."
For Mike, he's been one of the people who has visually shaped the recent golden era for Bossier, designing buildings that represent the last two decades' growth and development. He puts it all down to being incredibly lucky.
"It's rewarding to be a part of a community for so long and take part in that growth and development. I was extremely lucky to be in the right place at the right time," Mike said.
His two favorite projects in Bossier are the National Cyber Research Park, which he was involved with from the beginning. To see it grow out of a cow pasture to hosting thousands of employees with millions of dollars invested in the community couldn't make him more proud.
The other local project he takes extreme pride in is the creation of the East Bank District. He noted that the development is not one of immediate gratification because it is the type of project where you "take a beating" from businesses being disrupted, but it is one he muscled through to where development can take off. And, Mike says it is in the middle of taking off with new additions since it opened and talk of more coming there.
Those are only two of the municipal projects he and his firm have done for Bossier City. He keeps coming back to work with them because the government is "unlike any other government," saying it acts like a business.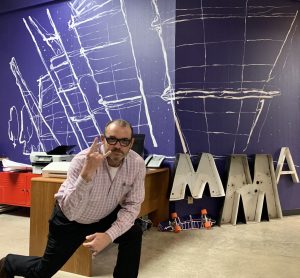 "The leadership has steered them to be business-minded with a desire for return on investment and being a good steward of tax dollars. They act with the nimbleness of a fighter jet so that when things come up and they need to act, they round the team up and move," Mike pointed out.
He went on to say that the longevity of the city's politicians means Bossier City leaders have an unspoken language where they trust him to get done whatever they need him to get done.
"They keep coming back because we do what we say we're going to do, we do what we do well, and we stand behind our craft," he beamed. "But, I'm just one cog in a giant machine.