Two Bossier City businesses are creating NEW and safe entertainment options
For more than a month as we have all remained hunkered down in our homes, we have been missing out on some of life's guilty pleasures. One of those fun activities included heading to the nearest neighborhood movie theater for a nice escape from life's hustle and bustle. Let's not forget your favorite candy, an oversized soda and large bucket of popcorn, with extra butter. As restrictions on safe social distancing remain in effect for many states, business owners are getting creative with their business practices, and a few local business owners are in the planning and execution stages of bringing drive-in movie theaters to Bossier City.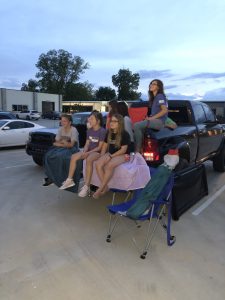 One local business in particular thinking outside-the-box includes a newcomer to the Bossier City business scene, Risen Rock Climbing Gym. Risen Rock opened its doors to the Bossier community a little over a year ago (April 2019) and has made a huge footprint. Risen Rock hosted its first drive-in movie night on Friday, May 1, with around 20 vehicles in attendance. Some [attendees] brought lawn chairs, some sat in the back of their pick-up trucks, while others sat in the comfort of their car with rolled down windows. In true rock climber fashion, the premiere of the drive-in featured the PG-13 climbing documentary 'Free Solo'. The picture was projected onto the exterior of the building. Co-owner Kelly Phillips said, "We have three small children and with the unprecedented times we are living in, it's just hard. We are always looking for things to do as a family and to change up the scenery, but slowly and safely." Kelly went on to explain that the projector was initially purchased to showcase the 2020 Olympic Games onto the walls of the gym as climbing is an official Olympic sport for the first time ever this year.
Risen Rock plans to host these drive-ins once a week throughout the summer months and Risen Rock's free-standing mobile rock wall may even make an appearance for socially distanced and socially responsible climbs. Contactless concessions will be available for purchase inclusive of popcorn, icees, pizza and smoothies from nearby neighboring business, Fruits of the Spirit. There is no fee to attend the movie, but donations are welcome and accepted.
A few miles down the road, well-known and popular eatery Silver Star Smokehouse is also in the works of opening "The Grove", a three-acre, drive-in theatre, adjacent to its location off East Texas Street in north Bossier. Plans for the drive-in were posted on the restaurant's social media accounts and large banners promoting the new venture are up at the Smokehouse. The drive-in will include an oversized screen and concession stands inclusive of everyone's favorite movie snacks. Because pecan trees line the beautiful open lot, the name "The Grove" seemed fitting.
These are just two examples of how our local business members are rallying and bringing safe entertainment options to our community. As Louisiana eases restrictions for businesses and families what better way to participate in a safe, social distancing activity than attending a movie at a nostalgic, drive-in theater?