"Please take a glass heart. It was made in appreciation for your commitment to the safety of others. It can be carried easily in your pocket to remind you that you are valued."
This is the message written on a tiny slip of paper enclosed with each glass heart created by Eric Allen, the owner of Ed's Emporium Art Glass Studio in Bossier City. Eric created these hearts as a gesture of gratitude for all the frontline workers that are putting their lives on the line during the COVID-19 pandemic. 
"We just want to make them smile and give them something to put in their pocket that shows them we are thinking of them and that we appreciate them," Eric said. 
So far, the glass hearts have been delivered to Willis-Knighton Bossier Health Center and a dialysis clinic. Eric says he always takes a few glass hearts when he goes to Kroger and gives them to the workers there. He knows they have been working hard during the pandemic as well. He is working to get the glass hearts to frontline workers across Bossier-Shreveport. 
"It's something to make people feel good so they know that the sacrifice they are giving is appreciated by other people." 
The pandemic has been hard on everyone especially local businesses. Eric has had to come up with creative ways to keep the art glass studio afloat including putting together Mosaic Kits that people can safely do at home.  
This isn't the first time Eric has had to use his creativity and business ideas to help the art glass studio make money. About 10 years ago, he decided to quit his job in Telecommunications and take over the family business. His father, Ed Allen, had been operating Ed's Emporium for decades at that point. 
"My personal life was on the road. I told myself, 'I'm burnt out on doing this. I'm going to come back, hang out at the shop and figure out what we're gonna do with this place.'" 
About 50 years ago, Eric's dad started Ed's Emporium after his mom wanted a Tiffany Lamp. She sent Ed to a stained-glass class and from there he was hooked. The family was stationed at Barksdale Air Force Base at the time. Ed decided to retire and they stayed in Bossier. 
"Roots had already started to tie us down…my mom and dad liked where they were at. We love Bossier." 
After his father's art glass projects started taking up too much room at home, he decided to move to a studio space. One thing led to another and more people started seeing his father's work. 
In 1981, Ed Allen became a glass retailer and that's when the business really started picking up. Years later, when Eric decided to take over the business, he knew that he had to learn as much from his dad while he still could. 
"I knew that I had to start teaching classes. I got my dad to teach again so I could watch him and figure out what all he was doing. I had done it [art glass] as a kid, but not as much as I do now. It didn't take much for me to get back into it." 
Eric started doing glass repair jobs and learned a lot about the trade doing that. He got to spend valuable time with his parents at the shop and made memories with them that he'll always cherish. He says that most people don't get to spend time with their parents as they get older, but he is lucky that he got to.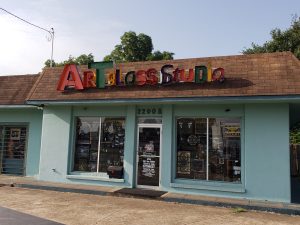 Now, Ed's Emporium has the largest art glass selection in the Ark-La-Tex and they carry a full line of tools and glass to complement the wide variety of classes they offer. Anybody can come in and do an art glass project at the studio. They have projects for all ages. Eric says most projects take only 45 minutes to an hour to do. They do a lot of fuse glass projects, which means the art is put in a kiln and fired when it is completed. 
"I love getting to the studio, opening up the kiln and seeing the projects that people were working on the night before. It's pretty cool." 
In the United States, years ago there used to be thousands of art glass studios. Now, Eric says that number is probably less than a hundred. That's why he says it is important to support local artists and local art studios. 
"If you know somebody that does art, then buy something from them…Without community and local support, we can't stay here. If we have a big crisis like this again, I don't know if we would make it." 
Ed's Emporium has made a lot of changes to follow safety precautions and encourage people to come visit them. 
"We're staying busy," Eric said. "Things have changed, but we've made a lot of changes in our studio to keep people safe. We are really pushing private groups and we're setting up places for them in the studio where they can work without worrying." 
Every year they do a "Christmas in July" art project. They decided to do a smaller project this year, over the course of a month, so that the studio doesn't get crowded all at once. The project this year is making snowflakes out of glass.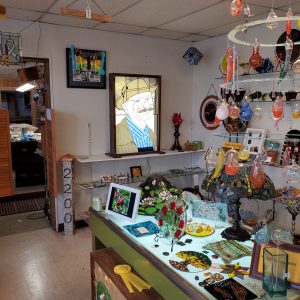 "They can come in and see what we do. It's a lot of fun." 
Each day when Eric is in the shop, he can feel his mom and dad there with him. Although he didn't grow out his mustache to match his dad's signature handlebar mustache, he knows that his father's legacy is living on through Ed's Emporium. Eric and several of his family members have handlebar mustache tattoos in memory of artist Ed Allen. It was a small way they could all commemorate his father. 
"Everyone loves mustaches now. He was ahead of the times." 
Sometimes Eric will see a repair that someone brings in and he will see his dad's signature so he knows that it was a piece he created. 
"That is always so cool," he said. "His legacy is just building. Bossier City would not have an art glass studio like this if it wasn't for my mom and dad. I'm just carrying on the legacy until someone else takes it over." 
Until then, Eric will continue to work hard to keep Ed's Emporium going. He encourages everyone to check them out. It can be a great family activity, date night, or just a fun afternoon. The shop also does repair work, custom made stained glass, classes, workshops, and more! Now is the perfect time to plan a trip to Ed's. 
"Support your local businesses. We appreciate it for sure." 
Address: 2200 Barksdale Blvd Suite A
Hours: Tuesday – Friday 10 a.m. to 4 p.m. and Saturday 10 a.m. to 1 p.m.
Phone: 318-742-6555