Sometimes a small gesture can make a huge difference. For Leslie Bailey, that meant finding a way to accommodate the hearing impaired students she works with as an Instructional Coach at Legacy Elementary in Bossier. 
"With us being a hearing-impaired school, for pretty much any hearing-impaired students, we knew that [facemasks] would be a big problem because they depend on seeing our face the majority of the time…any person that is hard of hearing or deaf will still read your lips to try and understand what you're saying to them," Leslie said. 
So, Leslie used her creative skills to design a clear facemask. She wanted to create a fun mask that would encourage kids to wear them. Other clear facemask designs that Leslie saw were square and robotic looking. She created the lip design on the mask to make something more inviting and natural-looking. 
"I think it makes it more inviting and being able to see people's smile again is a breath of fresh air." 
To date, Leslie has produced over 60 masks for classrooms at Legacy Elementary to help hearing-impaired kids, their fellow classmates, and their teachers. She has sold thousands of masks through her Etsy shop, Magnolia Stitch Co.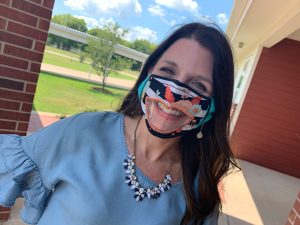 Orders for the masks have come from all other the United States. People message Leslie on Etsy all the time telling her stories about the positive impact her clear masks have had on their lives. One woman bought a clear mask so that her deaf neighbor could understand her better. Other people who have service jobs have bought clear masks to accommodate their hearing-impaired customers. 
Recently, a mom reached out to Leslie because her son was just diagnosed with epilepsy. She said that one of the signs that he was about to have a seizure could be seen by looking at his mouth. Leslie made him a clear mask to wear to school so his teacher would be able to look for signs of a seizure. She created a custom-designed Spiderman mask to make it more appealing for him to wear.
"The kids don't really like wearing masks, nobody does, but it's just something to make it more fun for them." 
Leslie has been teaching for 16 years and is now in her seventh year as an instructional coach at Legacy. She has always had a passion for helping others. That's why she got into the education field. 
"I've enjoyed working with kids and being a part of this giving job. It's a selfless job. Nobody does it for the money. We are servants of our community."
She started Magnolia Stitch Co. to express her love for designing things. Her Etsy shop was doing okay for the first few years. She would upload some of the designs she created on there from time to time. But, once the pandemic hit, Etsy put out a call for people to sew facemasks. Leslie broke out the embroidery machine that her mother gave her and starting created facemasks. 
"I never would have thought it would have gotten this big. Now, I have four embroidery machines at my house. I used to have a dining room and now it's a sewing room."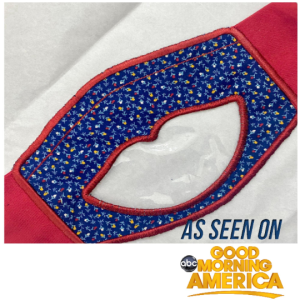 Since her story was featured on Good Morning America, Leslie has seen a significant increase in sales for her facemasks. She also received a letter from a retired teacher in South Carolina that wanted to thank her for what she was doing. She donated a $50 check to Leslie to help with supplies. 
"It's nice to see that there is such compassion and goodness in this world. There are people who take the time to do something extra for somebody else." 
But, the truth is, Leslie is okay with her facemask success not lasting if that means we can all return to normal life. Until then, she will continue creating facemasks to help others. 
"Hearing these stories, even though I get a lot less sleep now, that's what keeps me going. You're giving them a medium so they can communicate. It's personal when you're putting together something with your own hands to help others." 
Photos Courtesy of Stacey Tinsley/ Bossier Press-Tribune and Leslie Bailey