When you think about having a few drinks during a night out, cosplay contests and video game tournaments are probably not what first spring to mind.
But at The Queue Tavern, located at 905 Barksdale Blvd. in the new East Bank District, that would be just a normal Friday night.
The bar has the unique position of being Bossier City's only geek culture night spot, otherwise affectionally known as a "nerd bar". The Queue is your average bar, except it's filled with pop culture memorabilia, and serves several signature drinks based off nerd culture — including the Blue Screen of Death, the Ctrl Alt Delete, the Mighty Morphin' Megazord (which is actually three drinks in one), and the Marvel comics inspired Infinity Gauntlet.
In addition, the bar features a 120-inch screen for patrons to partake in both modern and retro gaming. The Queue also hosts weekend events, such as a cosplay contest this past weekend that tied in with the Geek'd Con in downtown Shreveport, or TV marathons, like the Doctor Who marathon scheduled for this upcoming weekend, August 26th.
There are also specials such as "Geeks Who Drink" trivia and "Gamer Girl Night" with ladies' drink specials on Wednesday nights.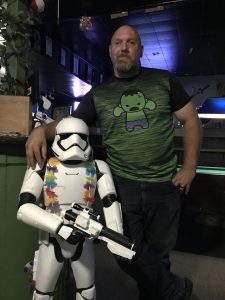 But with all the themes available, why a nerd bar? It's because Owner Christopher Davis is a nerd himself.
"We tried the whole traditional bar and it wasn't working out for us. With myself and my wife being big geeks, I thought, 'Let's give it a shot. There's nothing else like it around here.'"
He originally envisioned it to be more of a gaming type of venue before it was broadened to be more inclusive of geek culture.
But Chris says you don't have to be a geek to drink here.
"It's grown from that idea into a diversity-friendly venue. We welcome everyone, no matter what. It's about giving people a place to drink and be themselves without being judged by anybody."
For someone who has a day job, providing a safe haven for various types of patrons is what inspires Chris to open the doors each night, no matter how long or hard of a day he's had.
"Knowing that Im giving people a place where they can be themselves, it really helps me. I like giving people a place where they can go."
Having been in night club/bar industry for 20 years, his experiences made him want to be an owner so he could create a welcoming, fun environment.
"There are nights where I make no money and I'm okay with that because it's going to even out in the long run."
Something that will play in his favor is their location in the new downtown redevelopment.
"If they stay on track and do what they said they are going to do, I think it's going to help us and the community. I'm really looking forward to the changes."
"They're planning to make (downtown) a pedestrian-friendly, walking district — that can't do anything but help my business."
(The Queue is offering a drink special just for Be Bossier readers: Tell them you read this story and your second drink is free.)