What do I do with my kids?! If you're like me, going back to work after having kids was a hard decision. Ultimately, every parent has to make the decision for what works best for them and their family. A huge part of that decision is figuring out where in the world can you send your kids during the day? Who is going to watch them? How much will it cost? How can I guarantee they will get the best care? There are SO many questions when it comes to finding quality childcare, so I thought I'd help a little bit and give you an overview of some great daycares in Bossier City! There are quite a few options, but these below come highly recommended and here's why!
1. Little Sprouts Nursery & Schoolhouse
"We believe in the development of the whole child. We will nurture their creative, emotional, intellectual, physical, and social growth by providing quality care in a loving, nurturing, and safe environment."
That is the mission statement from Little Sprouts Nursery & Schoolhouse and according to Brianne Lucius, they live up to all of it!
"The quality of childcare is amazing here! It never felt like I was leaving him at a daycare center. It felt more like I was dropping him off with some friends, and that what I truly appreciated about Little Sprouts!" said Brianne.
This Bossier City daycare boasts excellent parent/teacher communication and academic structure. They have cameras in each rooms so parents can check on their kiddos virtually any time of day! If you are looking for a solid curriculum and teachers who love their jobs, look no further than Little Sprouts Nursery & Schoolhouse.
Location: 4476 Viking Dr.
2. Cornerstone Child Development Center
This daycare stands out because of their devoted and caring staff. According to Kaeli Darnell, Cornerstone was the best place for her child because "the staff at Cornerstone seem so happy to work there and I believe that shows in their work. From the way we're greeted when we walk in to the hugs and love my girl receives each day, you can tell this is a positive environment."
Kaeli realized Cornerstone was the best fit for her little one when she could drop her daughter off in the morning with a smile on her face.
"She is smiling, happy, and playing (mostly) sweetly when I pick her up. Do you know what that does for a mama's heart?"
Kaeli and her daughter are happy to be apart of the Cornerstone CDC community, so give them a try!
Location: 4201 Viking Dr.
3. Bedrock Academy
Bedrock Academy opened in Oct. 2005 and is locally owned and operated. It offers care for kiddos ages 6 weeks to 3-years-old and also after school programs for ages up to 12 years old.
One local Bedrock Academy mom, Ashley Aguilar, loved this daycare for her baby. Ashley told me, "It was a great place because [my daughter] was able to get a lot of attention, tummy time and had access to items to help her growth like play gyms and tummy time mats!"
Ashley also mentioned that she loved the security and the teachers that loved on her little girl!
"They always greeted me and were very personable in the morning when I dropped her off or in the evening when I picked her up. They kept me in the loop if she wasn't feeling, eating or seeming well!"
Location: 3224 Barksdale Blvd
4. First Friends Christian Learning Center
First Friends is known for its quality care and affordable pricing. If you are tight on a budget and worried about how to pay for daycare, definitely go check it out! I have never heard a disappointing word from a parent about First Friends.
Rachel Dillard, a First Friends mom, said, "It was great for my kids because they could be around other kids their age, they could just play and be kids. I think it was also good because they learned how to listen to other adults besides me. It's a small classroom environment—maybe 10 kids—and I think they felt comfortable being there, they weren't overwhelmed."
Rachel also noted that the academic change in her son from beginning of the year to the end was astonishing.
"At the end of the year and it was such a drastic change it was amazing!"
This learning center appears to be a warm and welcoming place with lots of teachers who really care about your kiddos!
Location: 201 John Wesley Blvd
5. Barksdale Child Development Center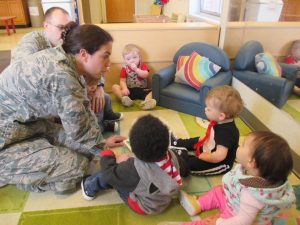 This unique childcare development center is located in the heart of Barksdale Air Force Base. If you don't have any military affiliation, you may not be aware of all the cool programs the Air Force can offer; this specialized CDC is one of them! Only authorized for use by military dependents (a child who has one or more parent in the US Military), this day care offers individualized pay rates, excellent care and the highest standard of teaching.
Emma Smith, a local mom, said she loved the Barksdale CDC because "I went in there at all different times of the day and never once were my kids sitting bored in front of a coloring sheet. They were so engaged in activities and all of the kids were just happy and having fun."
When asked about the teaching style, Emma noted, "They really get down to their [the children's] level and talk with them, not just telling them what to do. I genuinely felt like they cared about my kids, and I think my kids felt that way too and really needed it during that transition."
If you are a military parent, you should definitely check out the CDC on base.
Location: 424 Kenney Ave & 411 Fairchild Ave
6. Asbury Ark Academy
Located in North Bossier, Asbury Ark Academy does daycare and preschool. They even offer part and full time care for most age groups. My son attended a few years ago and I loved the kindness and all around southern hospitality of Asbury Ark Academy. They really cared about my son and he has made lifelong friends from his time there! Asbury Ark is situated off Airline Drive behind Asbury United Methodist Church. It is the perfect location for kiddos in the northern part of Bossier. Make sure you register early though because Asbury has been known to fill up quickly and I have even seen parents camp out the night before registration to be first in line!
Location: 3200 Airline Dr.
These are all great daycares in Bossier City that you can check out. Don't forget to visit Hulafrog for more local kid fun in the Bossier and Shreveport area.
Erin Beene is the founding Managing Editor of Hulafrog Shreveport. She is originally from Texas and has a background in event coordinating. She is the mom of two little kiddos and loves getting out to find fun things to do. At Hulafrog, their goal is to highlight all the family friendly events and businesses in the area.