Following the attacks on 9/11, President Bush made the decision that action must be taken. America was to drop bombs on those attackers. On Sept. 22, 2001, a group of Air Force bombers left Barksdale Air Force Base; the same base from which President Bush delivered the news of those dreaded attacks. 
Leading the fleet of the 20th Bomb Squadron as the first plane out was Lieutenant Colonel Stephen L. Heflin. With "I will always love you" stitched into his shirts beneath his flight suit, he had to leave behind his wife, the one who sewed those words, and his family. Lt Col Heflin flew over 28.5 hours westbound over Washington State, past Hawaii, off the coast of Vietnam and then eventually landed in Diego Garcia, a British Island owned territory. There began the hours of flying, dropping bombs, then returning to sleep for the night and waking up to complete the cycle again.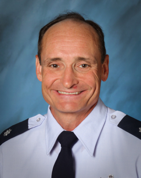 During the time following these attacks, he flew a total of 20 missions in almost four months. 
Barksdale Air Force Base was the last place Lt Col Stephen L. Heflin was stationed before his retirement in 2005. Currently he holds the position as the Senior Aerospace Science Instructor for the Air Force JROTC program at Clarkston High School in Washington.  
Though he may no longer physically be at Barksdale, he has a piece of him carrying on his legacy in a new and different way. Second Lieutenant Lindsey Heflin, his daughter, is currently stationed at Barskdale for her first orders. 
Though she is here now, being in the military wasn't exactly part of her plan.
"I had no intention of joining the Air Force but I did join the JROTC at my high school just because my dad was teaching it quite honestly," 2d Lt Heflin said. 
Following high school, she graduated and attended the University of Idaho and studied advertising.
"I had the big dreams of working in New York City or working for a big sports company," she explained. "Then after my sophomore summer I did an internship and realized I wanted something with a little bit more purpose and I wanted to do a job that combined my passions but do it for a cause that I could help a lot of people." 
At the University of Idaho, they don't usually offer a two-year program for their ROTC program. However, they were in need of officers and made an exception for her to join for her remaining two years.  When the time came for her to make her selections on where she preferred to be stationed, she put Barksdale Air Force base as her first choice. 
"I really wanted to come here, come back to Louisiana and I got it and I was ecstatic," 2d Lt Heflin said. Following her May 2019 graduation, she got her orders to come to Barksdale. 
So why would she choose Barksdale Air Force Base in Bossier City, Louisiana? Why would she ask to be stationed 2,701 miles away from where she had just spent the last four years and even further from her family? 
"I felt like it would be a home away from home and it absolutely has," she said.
The unique thing about Barksdale is that she is now starting her career where her dad left off.  She's begun her purposeful work and intends to serve for as long as she's able.
"I'd love to work with the Thunderbirds one day as their PAO (Public Affairs Officer), I'd love to go outside of the country," 2d Lt. Heflin said. "There are so many opportunities."
When asked how she feels about doing the work she's always wanted to do and making a difference she can't imagine doing anything else. 
"It's an indescribable feeling, I am just so happy to be in this position at Barksdale," she smiled.  "The people I work with are incredible…I couldn't imagine having another job." 
We know there are many men and women that make the sacrifice daily to serve their country in many different forms. We are forever grateful to them and we remember them not only on 9/11 but everyday. Thank you for your service.