Life has paired triumph with tragedy for former Bossier Parish teacher Debo Dykes. From the moment she began teaching, she has been drawn through the ups-and-downs.
It started early in her teaching career.
"During my first year of teaching at Meadowview Elementary School, on December 3, 1978, in the early morning hours, an F4 hurricane destroyed the school and killed two of my students," Dykes said.
Meadowview students, faculty and the city recovered from the twister, as did Dykes. Her teaching career saw numerous awards and accolades, including Outstanding Female Educator in 1986, 1985 Louisiana Certificate for Outstanding Contributions to Education, and many more.
None of her professional accomplishments would compare to the news Dykes received one fateful day.
"While teaching 7th grade life science at Rusheon Junior High School, on a routine morning in 1985," Dykes said, "An announcement was broadcast over the school intercom system that I had been selected as one of the finalists in the NASA Teacher in Space Program."
The enormity of the announcement was not lost on Dykes.
"With thousands of teachers submitting applications, I was overcome with excitement and thrilled beyond belief."
Yet, she understood that she couldn't have gotten there without the support of her kids, right here in Bossier City.
"I recognized that had it not been for the encouragement of my students, I would have never applied," Dykes said. "It was a paramount turning point in my career and my life."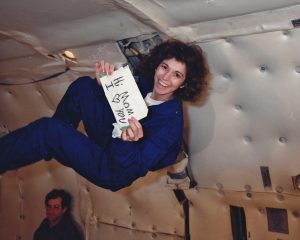 Everything changed from that point for Dykes, who received the honor of a trip to south Florida where she would train along with the other finalists of the Teacher in Space Program. But some of the lasting memories from that time came from the students of Louisiana.
"One of my most memorable moments was landing in a helicopter on a school playground in central Louisiana," Dykes said.  "As we hovered above the school grounds, I could see the children on the ground forming the human letters "NASA" as my welcoming message."
Dykes holds the message dear as she does the gifts given to her by various students from around Louisiana.
"Hundreds of letters and colorful crayon pictures from students following my visit to their school remain in safe keeping," Dykes said.
Unfortunately, no recollection of the NASA Teacher in Space Program would be complete without its disastrous climax, when the Space Shuttle Challenger exploded seconds after lifting off from Cape Cod, Florida.
It isn't an image she can forget.
"The tragic accident of the Space Shuttle Challenger and the crew of STS-51 is seared in my memory," Dykes said.  "Every Teacher in Space finalist was invited to the Cape for the launch."
While sitting in the bleachers set aside for journalists and public communications visitors, Dykes witnessed the explosion first hand.
"Against the advice of a Morton Thiokol engineer, Challenger was launched," Dykes said. "In the end, the lives of everyone onboard, including my friend and colleague, Christa McAuliffe, were lost."
Though the Challenger explosion is remembered by many who witnessed it live on television, that isn't where the NASA Teacher in Space Program, or Dykes' involvement with it, ended.
She continued to work with NASA to promote the space program and kids' interest in subjects at school such as science and engineering.
"The experiments Christa was scheduled to perform during the shuttle flight remained of great interest to me.  I knew that demonstrating these basic principles of physics would be welcomed by students and teachers everywhere."
Dykes helped to pick up where her friend left off.
"Fortunately, I was able to perform some of these experiments during my NASA training in the KC-135, or 'vomit comet', where brief periods of weightlessness were achieved by following a parabolic flight path."
Debo suggests that the name given to the KC-135 was well earned.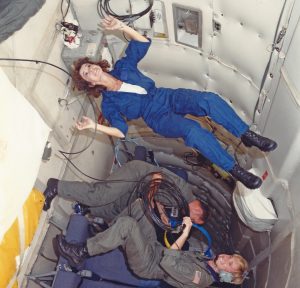 "It wasn't always fun," Dykes said. "The first time I threw up, I was so embarrassed I reached out and grabbed the floating sphere of vomit causing it to burst into hundreds of tiny 'vomit balls' that immediately began to fill the empty belly of the KC-135 where other crew members were working on their own projects."
Dykes brought some of her training and knowledge back home to Bossier City after her time at NASA.
"When I subsequently returned to Bossier Parish, I helped to establish NASA Teacher Resource Centers at both Bossier Parish Community College, and Southern University in Shreveport," Dykes said.
Her efforts with both the local Bossier City teaching community and with NASA are evidence of the way Dykes seems to continuously overcome pain and loss to achieve something great in her life.
After her time teaching locally was finished, Dykes moved to Denver, CO and ended up answering a new call on her life. While going about her business, she answered a figurative knock of opportunity which came about through a literal knock on her door. A man asked for food and Dykes stepped up to provide for him. It was then she understood where the next phase of her journey would tread.
"That 'knock at the door' broadened my vision and opened my heart to what I had not seen before," Dykes said.
From there she attended seminary to further her teaching impact into a new field of study.
"I discovered there was more than one way to help shape the life of a young person.  For the next 10 years, my classroom became the children of St. John's Episcopal Cathedral in the Wilderness, in Denver, CO."
Though she received some push back when her new teaching ministry moved to Jackson, MS, because some didn't believe a female should be a minister, Dykes was true to her calling to teach others about subjects she was passionate about. Whether that subject was engineering, science, math, or something more religious, she approached it all with the same devotion that she carried with her throughout all of life's ups and downs.
"Life is an exercise in twists and turns of the unpredicted and the unsought," Dykes said. "We go from one joy, or one struggle, to the next, always learning as we go."
From the joys of marriage and playing with grandchildren to the lows of losing her sister to breast cancer and having her own similar diagnosis, Dykes has dealt with personal loss and depression. Nonetheless, her drive to overcome and to teach remains. Now, those teaching moments include sharing NASA presentations and knowledge with her grandchildren and spending time with family.
Through it all, she keeps a strong heart and a clear perspective about the journey.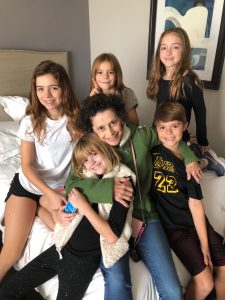 "The choices I have made in life have been a series of interlocking experiences that, in the end, have brought me wholeness, breadth of insight, and layers of meaning and truth," Dykes said.
And of her time teaching here in Bossier City and Bossier Parrish, she recalls it with the utmost respect and thankfulness.
"My teaching was a series of stumbles and turns that helped me direct my life to something with great purpose. The innocence and decency of my students inspired me to be present to their needs and introduce them to a broader world in which they were challenged to greater expectations for themselves."