It's never too early to start thinking about where you should host your office's holiday party. Bossier is home to many places with all sorts of different atmospheres and ambiance that are perfect for employees to celebrate the Thanksgiving and Christmas holiday season in style. From an upscale gathering for hundreds complete with a gourmet buffet to a small, unconventional gathering featuring a friendly competition hurling axes, Bossier has a variety to suit any office staff for any business. Check out these places in Bossier for your next office holiday party: 
Horseshoe
The Horseshoe Casino along the Red River offers banquet spaces, as well as, restaurants available for parties. The Orleans Room and Bossier Room provide a traditional party space, while the Four Winds Restaurant provides a more intimate atmosphere, and the Riverdome — site of many different acts and entertainers over the years — allows for parties of 100 or more.
"We can accommodate any size group and just about any size budget," said Jamie Williams, director of sales for Horseshoe Bossier City. "I have parties already booked for 20 guests, as well as larger groups of 300-plus at both our properties."
Horseshoe also offers a discount rate of 15 percent off of banquet menus for groups, as well as, the ability to grant complimentary room rental, complimentary bartenders, complimentary dance floor, hotel room discounts, complimentary door prizes and a flat fee for audio/visual equipment. In some cases, depending on the size of the group, they can even offer a Vegas Package to include three nights, tickets to a show, as well as food vouchers at any Caesars Vegas Property.
"Horseshoe has wonderful banquet space, as well as, restaurants that are great for holiday parties," Jamie said. "We have an experienced culinary team and banquet team to execute the events so that the planner can relax and enjoy the event. From start to finish, we handle it all!"
With her experience, she has insight into what makes a great holiday office party. Her tips are surprises, a theme, and something to engage attendees.
"I think when you can surprise the crowd with something, such as an emcee for the event that roasts the boss, or can give spontaneous and humorous office references, you will have more engaging conversations."
But she also advises to know your expectations before making that initial inquiry to the venue, and know the venue's expectations.
"Also, if you are truly interested in a certain venue, don't wait to start the contract process," Jamie advised. "It's never too early to seal the deal!"
Location: 711 Horseshoe Blvd.
Escape Bossier
For a holiday party that also acts as a team-building experience, there's no better option than throwing your staff together into a locked room and making them work their way out together.
Escape Bossier offers a live-action, interactive game where groups of two to eight players work together to discover clues, solve puzzles, and accomplish tasks to complete a mission to "escape" the room and finish the game before time runs out.
Co-owner Tyler Pesson said that doing an escape room as an office party offers employees the chance to break out of their shell and bond with their coworkers.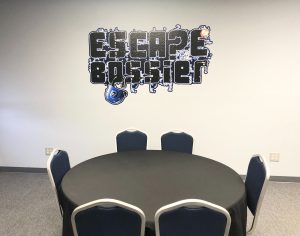 "Gets people involved, interacting with each other. Some people will step up and show their talents as they've never done before in an office setting," he said.
Co-owner Michelle Pesson notes that escape rooms are not only good team bonding exercises, but a team-building exercise. 
"Team bonding is working with your team to have a good time, there's no lesson involved. Team bonding has managers watching to see who's the leader, the notetaker or who has the attention to detail," she said. 
Escape Bossier offers five escape rooms where the puzzles last up to an hour. Their space can accommodate up to a max of 40 players at one time across all rooms.
They offer packages that range from merely doing an escape room with a group to reserving their conference room space, outsourcing catering, and getting the team building package with a John Maxwell leadership coaching session and personality assessment.
"The John Maxwell personality coach will give employees a personality profile and see where they fall and how they work with other personalities, and give tips and tricks on how to best work with those other personalities," Michelle said.
They request a two-week notice, but Tyler says they've accommodated everything from a 24-hour notice to a six-month notice. They can also work with companies to tailor puzzles and games
"If there's something we don't have listed, ask us. We can always accommodate, we can make this event catered to you," Tyler said. "We've done it in the past where we've modified a game for a group with company logos or even being brought on by a company to have workers come in and play custom puzzles tailored to job site safety."
Location: 2708 Plantation Dr.
Bayou Axe
For a more unconventional holiday party, perhaps there isn't a more exciting experience than hurling sharp objects at a wall.
Bayou Axe Co. Co-owner Doug Rodgers said the best holiday parties are the ones that are unique. He explained that an out of the ordinary environment can make normal work outings fun, as opposed to sitting in the office around the conference table.
"I've been there: You go to a Christmas party and you talk to the same people you see all day, every day at work. I've done it a thousand times, it's boring," he sighed. "Here, you can come in and do something different — eat, have a drink, and throw axes."
Doug and his partners Geno and Jennifer Goodman located Bayou Axe Co. in the East Bank District because of the unique vibe, which has carried over to their approach to offering work events. 
The venue can accommodate up to 100 people comfortably. Rodgers said they'll give the entire venue to the company for their party and have their neighbors, BeauxJax Crafthouse, come in and set up a catered buffet.
"We teach everyone how to throw, eat, and then we let them pick four team captains and choose their teams for an ax-throwing contest to see who is the office champion for bragging rights," Doug said.
For larger groups of 50-100 employees, it's best to set up two weeks in advance. For less than 50 employees, a week's notice will work. Monday and Tuesdays are the best days to reserve because Bayou Axe Co. is normally closed, where Wednesday through Saturday nights are difficult because it's the peak business hours. 
Location: 509 Barksdale Blvd.