Art can convey complex emotions and intense experiences without saying a word. The 21 works contributed by 13 artists at Bossier Parish Community College's "Beyond Duty: Artwork by Veterans, Active Military, and Their Family" speak volumes about the patriotism and sacrifices of military service.
Artist Dan Wasserman, a veteran of 22 years in the Air Force, submitted a painting that "exhibits the sometimes unpleasant backside of the military experience."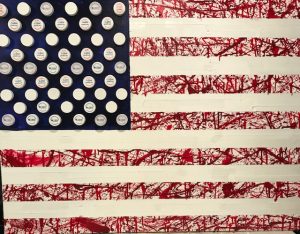 "Thank You For Your Service" closely resembles a standard 4'x3' American flag, but the stars are the tops of pill bottles, many with the pharmacy mark "VA." It is a moving tribute to veterans that "acknowledges the endless journey of medication some veterans face in the aftermath of the violence," said Wasserman.
"The best thing for the average person to understand is that all veterans served under continual levels of sustained stress," Wasserman said. "Sights and sounds can bring up unexpected memories."
AF Retired Major Darin Roberts was diagnosed with PTSD after his second deployment to Afghanistan. His painting, "MLK's Last 'Text' Message" imagines Martin Luther King, Jr.'s murder as he is texting his wife Coretta on that balcony in Memphis.
Bob Thompson's painting "Too Many Bombs Dropped, Too Many Lives Lost. Vietnam 1972" depicts an "Intruder" aircraft. He worked on that aircraft while stationed on an aircraft carrier at Subic Bay in the Philippines.
"The nightmares I used to have all the time have gone away since I began studying Buddhism first thing when I wake up and last thing before I go to sleep every day," said Thompson.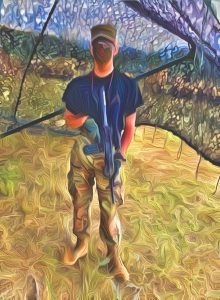 Karen K. Pearce's son, Daniel, is just starting his military career. She used a photo of him, which she digitally enhanced and enlarged to 16×20 inches. It is called "#68Whiskey."
"When he graduated Advanced Individual Training this summer as a combat medic, he was still 17 and the youngest combat medic in the U.S. Army."
Rebecca Thomas is a board-certified art therapist with a Ph.D. in Psychology who frequently works with veterans diagnosed with PTSD. She says art gives veterans "an additional tool for working through issues that traditional forms of therapy may not offer and that is creative expression."
"Veterans who have experienced trauma often cannot express themselves verbally," said Thomas. "Offering a non-verbal way to express themselves through art" can help "clients manage the level of expression so that it does not overwhelm them or cause such distress that they avoid the experience. There are also pleasurable and focusing aspects of making art that can be very calming."
Vietnam veteran Gary Humphries describes using art for reflection.
"At times it's a concept, in other moments it's an undefined thought seeking its freedom from a place it's been imprisoned for over forty years."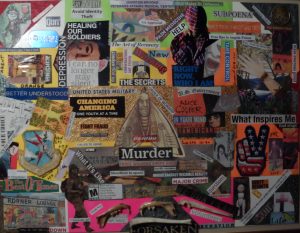 Humphries contributed two collages and a sculpture that use print media, paint, found objects and animal teeth to depict "an ongoing internal conflict with events, for an 18-year-old, during early military service."
The exhibit is open from 8 a.m. to 4:00 p.m. Monday through Friday, from now until March 20. It is in the Donna Service Gallery, Building A of Bossier Parish Community College.
"The artists are grateful for a place to exhibit their artwork, and visitors feel it is important to support veterans and active military in our community," said Lily Thompson, Assistant Professor of Liberal Arts at BPCC, who worked with Humphries on the exhibit. "I hope that it shows others in the same circumstances that they are not alone and that art can be a helpful way to express themselves and document their own experiences."
For more information about the exhibit, click here.