Every year locals and visitors alike come together in Louisiana to celebrate Mardi Gras. But this festive holiday isn't just celebrated in New Orleans. In fact, over 400,000 visitors are drawn to the Shreveport-Bossier area for the vibrant parades alone. You can really see the community's sense of identity expressed through the amazing Krewes that host these parades. Each Krewe has devoted countless volunteer hours and donations to local non-profit organizations.
One of these amazing groups is the Krewe of Barkus & Meoux. This year they will be hosting their parade in Bossier. Founded in 1999, this Krewe is made of both animal lovers and pet owners. They've worked hard over the years to promote responsible pet ownership in the community with public education about voluntary spay/ neuter programs. Their parades have been known to draw large crowds which also draws in donations. All the money donated is used to develop, foster and promote programs to benefit abused, neglected and homeless animals.
Dave Frye will serve as the 2018 Captain for the Krewe of Barkus & Meoux. He said the entire Krewe is excited for this year's parade.
"We are hoping for another big crowd like last year," Frye said. "Even Miss Louisiana will be joining us this year."
After many years of having the parade in downtown Shreveport, the Krewe decided to move the parade to Bossier because of construction and parking issues. He said moving the location to Bossier has made a huge difference.
"The Krewe just felt we needed a better location for parking and to grow the parade," he said. "The first year in Bossier our parade went from 2,500 in Shreveport to 7,000 in Bossier and last year we had over 13,000 patrons."
This year their parading theme is, "Pawrets of the Cattabean." All pet owners are invited to take part in the celebration.
"For me the best part of the parade is seeing all the animals in costume," Frye said. " Not to mention the excitement on the kids' faces as the pets parade rolls by."
Visit the Mardi Gras Museum
If you're looking to explore displays of themed costumes and a variety of memorabilia, then you should stop by the Krewe of Gemini Mardi Gras Museum. The museum is open seasonally during Mardi Gras. It also serves as the den for the Krewe of Gemini. Over two decades of Mardi Gras history in North Louisiana is highlighted at the museum.
You can also see the Krewe's colorful floats at this location during the loading party. Be sure to call the museum at 318-741-9264 or email them at info@kreweofgeminimuseum.org to book an appointment before visiting. It's a great spot to visit if you want to get in the festive mood for Mardi Gras.
Location: 2101 E Texas St, Bossier City, LA 71111
Events in Bossier
Krewe of Barkus and Meoux Pet Parade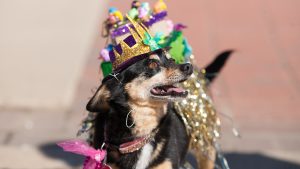 When: Sunday, Feb. 4 from noon to 4 p.m.
Where: Events on the Red (2000 Reeves Marine Dr., Bossier City)
See some of the cutest pets and their owners in festive costumes during this fun parade. All pet owners are invited to take part in the celebration.
Krewe of Gemini Float Loading Party
When: Friday, Feb. 9 from 6 p.m. to 9 p.m.
Where: Krewe of Gemini Den (2101 E. Texas St., Bossier City)
You can see the Krewe of Gemini load their colorful floats at their den during this float loading party. The event is open to the public. There will be delicious food and lively music.
To check out Mardi Gras events happening in Shreveport, you can read the Shreveport-Bossier Convention & Tourist Bureau's The Gris Gris Guide to Mardi Gras.
Photo Credit: Shreveport-Bossier Convention & Tourism Bureau