As a family of four, The Anthonys make their way to Bossier City as soon as the weather turns into spring.
"Though we live in Shreveport, we cross the river to enjoy Bossier City," Michelle Anthony said. "We like to pretend we are going an a mini vacation over the weekend. With a newborn and a very active 3-year-old, we like to change things up and explore."
Crossing over the bridge provides a home away from home for many families living in Shreveport. Anthony said she enjoys all the options Bossier City has to offer and used to live in the city when she first moved to Louisiana from Colorado.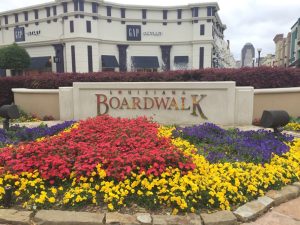 "Our favorite place to go is the [Louisiana] Boardwalk. When my husband isn't working, we go there for date nights, but during the day, we can bring the whole family. My oldest loves to go on the trolley and take the ride through all the shops."
Anthony said she enjoys the Boardwalk because there are many outlet stores to enjoy just in time for the new season.
"I like to meet up with friends and check out the shops," she said. "Spring is the best time to shop for new clothes."
Although the Boardwalk is an outdoor outlet shopping area with retail shops and restaurants, the area also offers many family friendly events, such as holiday activities for the children, markets and special events. You can keep a close eye out for those special events on the Louisiana Boardwalk Facebook page.
If you and your family are looking to enjoy some outdoor activities this spring, the Anthonys recommend two of their favorite parks. First is North Bossier Park or what is known to some as Brownlee Park. On any spring day be sure to get there early because many families celebrate birthdays, family reunions or even cookout at the park.
"We like to make friends here. There are so many kids that are close to Presley's age. It can be fun to watch them play together," she said.
There are a few different areas for children – one covered and the other open with sand and a rock climbing area. Plus, at North Bossier Park, there is a lot of open space for families to enjoy a picnic or spread out to enjoy the open air. A walking trail provides a space for strollers and two separate parking lots allow for many in Bossier to enjoy the outdoor space.
"In the summer, Brownlee has a mini-water park too. This place has so much to offer," she said.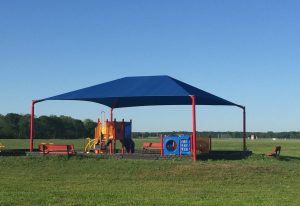 As for the Anthonys' second choice, they go to South Bossier Park. Coming from Shreveport, it is an easy drive across Barksdale Boulevard and near Sligo. The Anthonys like coming to this park if they want to get away from the crowds.
"It seems like not a lot of people in Bossier know about this park," she said.
There is plenty of space for games and sports at the South Bossier Park. Opened in 2015, the playground equipment is new and there are a number of fields for sports like baseball, softball, football, soccer and lacrosse.
Anthony said it is difficult to pick a favorite location to be during a spring weekend in Bossier City. The cool weather is a complement to Bossier City allowing for family fun and more outdoor events.
"Spring is our season. It's the best time to be outside," she said.
For spring fun, The Anthonys Recommend….
The Louisiana Boardwalk
Location: 540 Boardwalk Blvd, Bossier City, LA
North Bossier Park
Location: 4307 Old Brownlee Rd, Bossier City, LA
South Bossier Park
Location: S Bossier Park Dr, Bossier City, LA
Looking for more ways to enjoy the outdoors in Bossier? Check out our blog on, "5 Places for Hiking, Fishing and Camping."