Over the past few years, the tasty Tex-Mex staple chili con queso (more commonly referred to as queso) has been taking the nation by storm. Both Mexican and American restaurants serve up bowls of the hot, mouth-watering cheese dip alongside baskets of salty tortilla chips. Here in Bossier Parish, local businesses are on board and serving up their own housemade quesos, and the results are delicious!  Check out these 5 restaurants that are dishing out queso to the masses.
Ta Molly's Mexican Kitchen
Location: 2509 Beene Boulevard, Bossier City
If you have never sought out Tex-Mex dining, allow Ta Molly's to change your mind! Manager Daniel says that the queso is a staple here, and though both varieties are hit sellers, the yellow queso reigns supreme.  A little less spicy than the white, the yellow has a delicious cheddar taste that is thick, gooey, and oh-so perfect on one of their unbelievable housemade chips.  The fun and friendly energy at Ta Molly's makes this restaurant a great destination that will pay-off with an amazing queso appetizer!
Nicky's Mexican Restaurant
Location: 2701 Viking Drive, Bossier City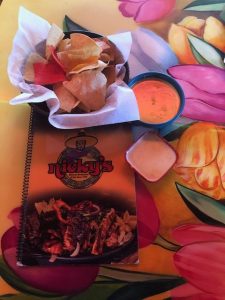 Treat yourself to some of the most creamy and warming quesos out there. Nicky's offers both yellow and white queso dips to be enjoyed with housemade tortilla chips. Managar Louis says that the white queso is their most popular, possibly because it is made with Monterey Jack cheese rather than cheddar.  There is a little heat to this one, but not the tongue-burning type of spice. A nice warm tingle stays at the back of your mouth and makes you want to go back for more. The restaurant is vibrant and open, with a smiling and helpful staff that makes you feel right at home.
El Jimador
Location: 3155 East Texas Street, Bossier City
Only white queso is featured at El Jimador, and it easy to understand why!  This white cheese dip has a rich cheddar taste and only a little heat from the jalapeños.  Though typically served as a side with crunchy chips, the queso also acts as a sauce on a number of different menu items, including rancheros dishes as well as the specialty Jimador plates featuring Chicken, Beef, Molcajete, or Tamales.  This queso is not too hot and certainly good enough to be enjoyed on its own.
Posado's Cafe
Location: 1703 Old Minden Road, Bossier City
This restaurant is worth the visit for the atmosphere alone, but definitely worth getting comfortable for the queso!  Serving up yellow queso and now white as well, Posado's Cafe has no shortage of customers for the impressive amount of seating.  Manager Damon credits the restaurant's success to the tortilla-making machine, which he calls the "Brains of Posado's." The housemade tortilla chips are thin and crisp, but if you want a real treat, try out their Elote appetizer which features Mexican street corn flavors on pillowy tortillas that have just a tiny bit of crunch.  Although the white queso has only been available for a few weeks, an Elote tortilla dipped in that cheesy goodness is a real match made in heaven.
Del Bob's Burrito House
Location: 6550 Highway 3, Benton
When you are in the mood for some good queso, check out Del Bob's Burrito House. The restaurant opened at the end of January just this year, but has already built a loyal customer base and it is easy to see why.  The couple that owns Del Bob's, Chris and Dana Green, are as kind as can be and the food is outstanding! This queso is made from a blend of several white cheeses and a mix of peppers that give you a hearty, smooth bite without much heat at all.  With crunchy chips, it's a great dipping snack, but it also comes as the standard cheese on their nacho dishes.
These are just a handful of restaurants serving great queso that Bossier has to offer, so get out there and find out which one is your favorite!