The holidays are a prime time for side jobs as residents look to pick up some extra Christmas cash. One of these people utilizing their skills for some gift money is south Bossier resident Kathleen Weir. 
A graphic designer by trade, her passion lies in interior design. Specifically, decorating homes for all seasons and holidays. 
Kathleen said her side gig of decorating homes is to create a new background for the place you see every day. She notes that it can make parties more fun, guests feel more festive, kids happier during the holidays, and relaxing a little easier for homeowners.
"I just love to decorate, whether it's for a holiday or just updating a room. It's a different way of expressing my creativity," Kathleen said. "It gives me great joy. I love to see people's reactions when they walk into a nicely decorated home that has a warm, inviting feeling."
She has been decorating homes for 15 years and got into it after her children needed her help to deck their own halls, so to speak.
"Their friends would see their homes and want me to help them, too, and it just went from there. I get all my clients through word of mouth," Kathleen said.
Most recently, Kathleen updated a home and was then hired to come back and decorate for Christmas. To start, she replaced all the dark colors, including furniture, with lighter colors; fringed, heavy drapes were changed out for plain panels; all the bronze light fixtures were swapped for gold. 
"These changes really lightened everything up and made everything more bright and cheery," she explained.
Her approach to decorating a home for the holidays is to make a unique statement that corresponds to the home, or even each room. She gave an example of this approach with her most recent project, which saw her place four unique trees inside the home that complimented each room.
The first tree is in the dining area and is a traditional green tree with white lights, black and white bows striped gold, red and green. The second tree is in the "winter wonderland" of the breakfast room and is a slim flocked tree with white lights decked out in lime green, white, and silver. 
The third tree is in a girl's bedroom and is a silver pencil tree with white lights to offset the bright colors. Kathleen added fun, whimsical decor such as black and white stripe funky bows, ornaments of pink, lime green, and turquoise with polka dots. The final tree is in the master bedroom. The decor is white, navy and gold, so she chose a rose gold pencil tree with white lights decorated with navy poinsettias and ornaments that mirror the room's color scheme.
"One of my favorite things in this home is the sofa table. The decor on this piece includes a large birdcage filled with Christmas ornaments and lights, plus a beautiful, unique nativity scene," she said. "There are Christmas decorations scattered in the kitchen, living room, on the patio, and in each bathroom, including poinsettias throughout."
She started the process of decorating before Thanksgiving, tackling the most visible part of the house — the front yard. 
"I started with a large inflatable Santa. The driveway and house are lined with lights. I hung lighted garland with lighted gold wreaths on the front doors, placed large, metal candy canes in the flower pots, tied big red bows on the gas lights, and put wreaths on each front window of the house," Kathleen said.
Her overall approach to decorating a home for the holidays is to make it as festive as possible. With that in mind, she offered some free advice for decorating a home for the holidays:
Place Christmas hand towels and candles in the bathrooms

Fill tall clear vases with Christmas ornaments and faux snow

Set poinsettias around

Use lots of garlands, large bows, and white lights

Use pencil trees in bedrooms and decorate them in colors to match the bedroom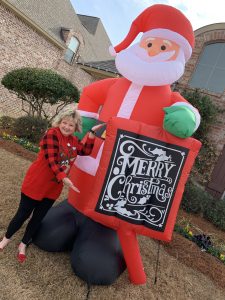 Her love of decorating extends to her other passion of helping people. This year, she picked a 13-year-old girl off the Angel Tree at her church and got so excited when she saw the young foster girl wanted a comforter and matching pillowcase.
"I could not have been more excited," Kathleen exclaimed. "In my head, that meant I was getting to help decorate her room."
Not only did Kathleen make sure the girl got her wish, Kathleen added sheets, throw pillows with her name monogrammed on them, a decorative canvas, and a letter board. 
"I really hope she gets as much joy out of it as I did!"