Year after year we vow to lose weight, exercise, save money, manage stress and the list goes on and on. This time, let's use these local resources to make changes to our old habits. To help you get there, try visiting some of these places in Bossier. 
Lose Weight!
Julie Hartley, the Willis-Knighton nutritionist who conducts seminars on improving health, suggests taking the 21-Day Smoothie Challenge. Substitute that fast-food lunch for a smoothie 21 days to "see how it can improve everything from energy and sleep to boosting your mood and weight loss," says Hartley.
Matt Norton of Main Squeeze Juice Co. recommends "Tropic Kale" (pineapple, coconut water, kale and honey) and "Blue Tart" (apple juice, pineapple, and 'Blue Magic' algae extract for reducing inflammation). Both can be customized to lower sugar and add more protein, with around 300 calories for 24 oz. smoothies.
Maddy Dooley of Smoothie King recommends "Lean 1" (chocolate, vanilla or strawberry at 200-250 calories for 20 oz., with 21 grams protein and eight grams sugar) and "Slim & Trim" (chocolate, vanilla, blueberry or veggie at under 300 calories with an average of 20 grams protein and sugar ranging from 16 to 37 grams).
Get Off the Couch!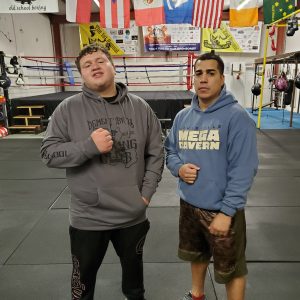 An exercise program that burns calories, strengthens muscles and provides a strong cardio workout is easier if it's fun. Coach and owner Jake Dement of The Dement Brothers Old School Boxing Club trains members from 6 to 81 to box. Participants see improvement in their self-esteem, stamina, fitness and weight loss within weeks, said Dement.
Burning calories, working muscles and getting cardio exercise while increasing breathing capacity and reducing stress are just some of the benefits of yoga. "Beginners to yoga can tap into the countless benefits of a regular practice right away," says Heather Delia of Aspire Yoga.
Grab a water bottle and some comfortable shoes and walk, cycle or run the Arthur Ray Teague trail, which runs 6.5 miles from Diamond Jacks Blvd. to the Red River National Wildlife Refuge. Along the way, there are benches, a bathroom, and a water fountain, said Mike Boydstun of the Red River Waterway Commission. A welcome center at the refuge features exhibits and cleared trails through the woods. 
It's Your Money – Keep Some of It!
Have a savings safety net of least three months' salary for when the unexpected happens. To make saving less painful, credit unions and banks can automatically transfer a set amount from checking to savings.
If you have high-interest credit cards, stop shopping (!!) and pay them off as soon as possible. With credit card interest averaging 21.26%, those "bargains" we just had to have may sink us. Mariette Shuler, branch manager of Bossier Federal Credit Union, suggests consolidation as a way out.
"Do you want to lower your monthly payment or do you want to lower the amount of interest?" asks Shuler. BFCU offers loans with up to a five-year payoff without collateral. Interest rates on personal loans range from 8% for "platinum credit" to up to 17.9%, depending on a credit rating from A to D.
Going forward stick to a budget, stay out of tempting situations that encourage shopping, unsubscribe from retail businesses' emails, and delete credit card information from websites. Financial security reduces stress and makes options like vacations, big-ticket purchases and home improvements affordable.
Do It Yourself!
Home Depot offers free classes at various times on Saturdays and during the week on you-can-do-it projects including painting tips and trends, installing a tile backsplash and easy bathroom updates. Register here.