Low Crime Rates Attributed to Bossier Parish Law Enforcement Excellence.
One phone call on a Wednesday afternoon left me feeling like I had been kicked in the gut. My husband called to tell me the home we had purchased two weeks earlier had been burgled.
I believed that moving to a rural area would keep me safe from the crimes I had dealt with in larger cities. It seemed like I had moved out to the country for no good reason.
We repaired the broken door and submitted a list of stolen items to the insurance company. I figured that was the end of it.  
But a week or so later, I was visited by a Bossier Parish deputy with great news. The burglar had been arrested, and our stolen items had been recovered.
The suspect had been on a crime spree across five states, breaking into and entering homes, stealing guns and jewelry. Law enforcement agencies in those areas were looking for him. But it was the Bossier Parish Sheriff's Office that found him and arrested him.
And I began to feel safe again.
How is Bossier Parish Law Enforcement Lowering Crime Rates?
When last year's Bossier City crime statistics were released in March, we learned that violent crimes in the area had fallen by 24% over the previous two years.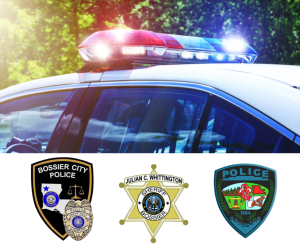 Sheriff Julian Whittington of the B.P.S.O. reported a 9% decrease in overall crime in the parish, with the reduction in the last two years coming in at an impressive 27%. You can see his full report here.
So I asked local law enforcement agencies how they are making such a difference.
Bossier City Police Department's Public Information Officer, Traci Ponder, says, "We take every crime seriously. We have the same determination to solve each crime, whether it be a misdemeanor or a felony."   
Each crime is considered severe, and the B.C.P.D. tries to resolve each matter. She says that this extra effort "offers a measure of feeling safe" to the victims and the citizens of Bossier City.
With 137 full-time uniformed officers and 57 civilian staff members … along with the members of the Reserve Police Unit … the B.C.P.D. is working hard to shrink the crime numbers.
The Haughton Police Department follows a simple motto: Patrol, patrol, patrol! H.P.D. Officers are always instructed to be "looking, observing, and trying to 'stop it before it starts." The low crime rates are attributed to Bossier Parish Law Enforcement's excellence.
Bossier Parish law enforcement agencies are lowering crime
.
Captain Richie McCarthy of the Louisiana Department of Wildlife & Fisheries says that D.W.I. arrests on local lakes have dropped significantly in the time since he started working in this area. His office has been able to confiscate illegal drugs from a lot of boaters in Bossier Parish.
He believes the drop in incidents is due to the high visibility of his officers on the waterways. 
And Wildlife and Fisheries agents are also present anywhere hunting is going on in the parish, and they even help keep the roadways safe from impaired drivers.
Around 23,000 school students are protected every day by the Bossier Parish School Resource Officers.  
According to the B.P.S.O., these trained officers and marked patrol cars at each school help deter crime at and around local schools.
Of course, other law enforcement agencies in the area, like the Benton Police Department, the Plain Dealing Police Department, and even the Barksdale Air Force Base Security Forces.
Each agency has its jurisdictions, but they often work with each other when needed.  
Special divisions and task-forces of the local law enforcement agencies are also helpful in some situations. You might occasionally see:
Hostage negotiation personnel

Bomb removal specialists

Marine Patrol

S.W.A.T. team members

Rope rescue officers

Divers

Drone teams

Vacation watch officers

Homeland Security agents

Louisiana National Guard

Sheriff's Posse
Not just "everyday heroes" … but heroes every day!
Community Outreach programs by local law enforcement agencies also help create a more visible presence in the area and a friendly relationship with citizens in Bossier Parish.   
Programs like these build a stronger community:
"Operation CLEAN Sweep"

Blood drives

Crimestoppers

D.A.R.E.

SALT/Triad

D.I.R.T.

Operation Santa Claus

Fan and heater distribution

Welfare reassurance visits
And in addition to their regular duties, our law enforcement officers often go above and beyond what's expected.
For example, once B.P.S.O. Deputy John McClain saved the life of a man by pulling him out of the path of an oncoming train last June.
Or the day Bossier City Police Chief swore in Atticus Joshua Banes, a 10-year old suffering from Muscular Dystrophy, as an honorary Junior K-9 Officer.
You'll find helpers from every agency assisting whenever there's flooding or severe weather.  
You may see officers offering comfort to the family members of an accident or crime victim.
Or you may witness law enforcement officers searching for a missing person or a runaway.
The officers and administrative workers in law enforcement are working tirelessly, 24 hours of every single day, to keep the citizens of Bossier Parish safe.  
During this time, when so many have turned their backs on these heroes, it helps to remember their bravery and dedication, keeping the residents of Bossier Parish safe.
Be sure to show your appreciation to local law enforcement workers the next chance you get.