With all the local gyms offered throughout the city, could there be such a thing called a Bossier body? More than ten different gyms are spread throughout Bossier City making it easy to build that Bossier bod just in time for the summer season. From North to South Bossier and everywhere in between, you can match your fitness level to any of the gyms in Bossier. Here's a few to check out:
Anytime Fitness
If getting to the gym before it closes is always a struggle, give this gym a try. Anytime Fitness locations are sprouting up all throughout Bossier City and a majority of them are locally owned. Matt Nycum is the owner of one of the locations in Bossier City off of Airline Drive.
"Every member gets a key to my business. We are safe and neighborhood friendly," Nycum said. "We offer our members a healthy lifestyle and each of the locations have a familiar feel. They do have differences but they all have a similar feeling."
Equipment varies depending on location, but each one can provide the guidance to help you achieve any fitness goals. The company's mission is to get you to a healthier place and does this by offering a free, no pressure consultation. At Anytime, they value the importance of making the first step and make you feel confident in sticking with a plan that is right for their customers.
Plus, it's convenient! You can workout on your schedule. The convenience of having a 24-hour fitness center is a reality for Bossier City and has been for quite some time. In fact Bossier Parish now has six locations including one in Haughton and another in Benton. Check this gym out if you have a busy schedule, but you still want to stay active.
Membership cost: Prices vary by location
For more information, click here.
Christ Fit Gym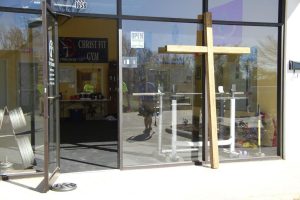 Tap into wellness at multiple levels at Christ Fit Gym located in North Bossier. Both physical and spiritual wellness are what set this gym apart. Plus, it's completely free.
"It's so different. People that come in to [Christ Fit] tell me that it is such a different atmosphere than what they have experienced," Billy Weatherall, owner of Christ Fit Gym said. "We work out together. We pray together. It's a place where people can come out and feel comfortable working out."
Not only is the gym about physical fitness, the location is also a ministry. Christ Fit is social wellness at another level. The mission is to spread the Gospel through physical fitness. To do this, Christ Fit hosts daily Bible devotions, prayer groups, bible studies and even offers its location for an after school program for teenagers. Fitness classes are offered Monday through Saturday.
Another benefit to Christ Fit is the equipment and what they have to offer. There is everything from treadmills to free weights and even an obstacle course – and a pool is coming soon. It's important to know Christ Fit is a nonprofit that is supported through donations. It doesn't have members, you do have to sign a waiver, but you are not committed to any fees or locked into a contract. Weatherall said he has had about 7,500 people come to Christ Fit since its opening in 2012.
Membership cost: No memberships, free to workout but donations are accepted
For more information, click here.
Fitness Lady Bossier City
Kedgy Larson, owner of Fitness Lady, has a philosophy at her gym. Her philosophy is all about balance and the five components consisting of physical, mental, emotional, social and spiritual which complete the outer points of a star.
Larson's expertise lies in motivation.
"If your exercise isn't playful and fun and accomplishing what you want, then come and see us," she said. "We all know exercise is work but I am big on the important things like putting energy and fun into workouts."
Throughout her 7,500 square-foot fitness facility, she is known as one of the best locations for women to achieve their fitness goals. Being a women's only gym, the Fitness Lady provides more than just a workout and the equipment. She staffs expert trainers, a registered dietician and offers wellness seminars that are free and open to the public.
You can go to the Fitness Lady's website and get a coupon to try out the gym for free. The website coupon is good for one free workout with full club services.
Membership cost: Varies by plan
For more information, click here.
Did you know about these gyms in Bossier? Looking for more activities to help you stay active? Check out our blog on outdoor spring activities in Bossier for the whole family.