If there's one thing in Bossier that stands out, it has to be the wealth of places to eat. There is no shortage of restaurants, dives, diners and hidden gems offering up a variety of choices for foodies. And once you've had your fill of spicy crawfish then comes the best part of a meal…dessert.
But where should you turn to get your "just desserts" and satisfy that sweet tooth in Bossier? Below are a few sweet places to eat in Bossier that offer up various degrees of delicious decadence that can put the bow on a great lunch or dinner.
1. Wooden Spoon
The Wooden Spoon is a Bossier institution. It has been on Viking Drive before a lot of that area was even developed. While they now serve sandwiches, it is mostly known as a bakery offering up cookies, muffin loaves and brownies.
When owner Tammy Judge took over in 2013, she expanded to include other treats like cupcakes, and even offers a specialty cupcake each month. For example, April's special is a s'mores cupcake.
"We make everything from scratch," Judge said. "We put a lot of care and love into it. It's something I've always wanted to do. I did it from home and now I can share it with other people."
Location: 4350 Viking Loop Ste. 2
2. Copeland's Cheesecake Bistro
Is there any dessert that is more rich, more decadent or more satisfying than a piece of cheesecake? At Copeland's Cheesecake Bistro you can indulge with a myriad of flavors and you can also explore the Louisiana Boardwalk when you're done eating.
One of three restaurants in Louisiana, it has the unique offering of allowing diners to top their original cheesecake with fruit, fudge, caramel or white chocolate, or they can try specialty flavors such as red velvet, cookies and cream, turtle or even king cake. This is definitely one of the best places to eat in Bossier if you have a sweet tooth.
While their namesake is the headliner, don't sleep on the fudge brownie a la mode or white chocolate bread pudding because they are tasty sweet treats as well.
"We put our heart and passion into everything we create," said Stefani Wilson, brand and sales ambassador. "All of our toppings and sauces are from scratch in our restaurant and added to desserts made especially for the Cheesecake Bistro. We love to help celebrations sparkle with decadent treats made with love."
Location: 240 Plaza Loop
3. Chocolate Crocodile
If you're a chocolate lover, then the Chocolate Crocodile might just be your nirvana. Located on the Louisiana Boardwalk, this little sweets shop is a virtual smorgasbord of every chocolate treat you can name…and what you can't name has already been dipped in chocolate for you.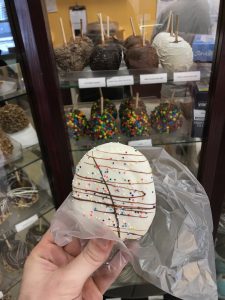 Everything from malted milk balls, peanut butter cups, fudge and chocolate dipped strawberries to chocolate chip cookie sandwiches dipped in milk chocolate and (my personal favorite) the white chocolate covered honey bun all await your taste buds.
They are also famous for their spin on a caramel apple that is — you guessed it — covered in chocolate and other toppings. It's not uncommon for out of town visitors to stop by the Boardwalk just to pick up one of their many-flavored chocolate apples.
"We use high quality, fresh ingredients and take pride in the creativity of our products. Our employees and customers give us new ideas to try. If our customer is feeling it, we keep the product going and if they don't like it, we try something else," said Sarah Fontenot. "We not only have homemade and hand-dipped chocolate, but other quality treats — gummies, sweet and sour candies, sugar free candies, and we even have a certified gluten free line of truffles."
Location: 460 Boardwalk Blvd.
Want to know more about great places to eat in Bossier? Check out our blog on the best places to eat crawfish in Bossier City!