Come explore the arts at Bossier Schools' inaugural i3 Art Expo from May 3-5 at the Bossier Civic Center.
Art comes in many forms and the i3 Art Expo will reflect that. It is all encompassing with subjects ranging from visual and literary art, vocal and musical performances, filmmaking and animation to hands-on STEAM (Science, Technology, Engineering, the Arts and Mathematics) activities with an emphasis on reading.
"I am in awe every day by how talented and creative our young people are," said Bossier Schools Superintendent Scott Smith. "Whether they draw or paint, enjoy filmmaking, acting or singing, i3 will enable us to showcase Bossier Parish students' talents and give them a stage on which to shine."
Inspiration, Imagination, Innovation
So what does i3 stand for? Inspiration. Imagination. Innovation. It is the impetus at Bossier Schools and the district's mission to inspire today's youth to imagine the possibilities and become the innovators of tomorrow.
Every second grader in the parish will be bused to the Bossier Civic Center to experience i3, see students' artwork and realize that "Reading Rocks." In partnership with Presenting Sponsor Shreveport-Bossier Family Dental Care for Kids, children will be encouraged to read and offered incentives to get their library card, enroll in Bossier Parish Libraries' summer reading program and build their literacy skills while out of school. They will also participate in hands-on activities in the Innovation Room that center around Science, Technology, Engineering, the Arts and Math.
The i3 Mascots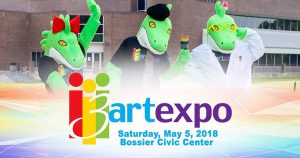 Everyone who attends will also get to meet the i3 Mascots — Izzy, Ike and Ivy. These lovable, larger-than-life mascots embody what the i3 Art Expo is all about: Inspiration, Imagination and Innovation. Each of the i3 mascots brings his or her unique gifts and talents to the forefront, just as the students attending Bossier Schools do. No doubt, you are sure to love them all!
Izzy is the theatrical one, drawing her inspiration from the performing arts. She enjoys dancing, singing and performing and never meets a stranger. Give this girl a microphone and the world is most certainly Izzy's stage!
Ike lives his life in full color. Rarely is he found without his painter's palette, for Ike never knows where imagination may strike. Using more colors than in a giant box of Crayola crayons, Ike brings every hue of the rainbow to life.
Rounding out the trio of mascots is the brainiac of the bunch. Ivy is her name and STEAM is her game. That stands for Science, Technology, Engineering, Arts and Mathematics. There is not a scientific equation or math problem Ivy cannot solve. She rocks all-things-STEAM.
ThisAbility Walk
Supt. Smith is especially looking forward to the ThisAbility Walk, a compelling mural that will stretch several hundred feet and represent the collaborative efforts of students with challenges from every school in the district. This visual work of art places emphasis on every student's abilities.
Co-sponsored by the City of Bossier City, the i3 Art Expo will also offer student competitions on the evenings of May 3 and 4. Bossier Federal Credit Union will sponsor the 4th annual Bossier Schools Showcase on Saturday, May 5, which highlights individual talents, group performances and more. Readings and presentations from guest authors and artists that are employees of Bossier Schools are scheduled as well.
The three-day arts festival will culminate with an awards ceremony Saturday at 4 p.m. Sponsored by Citizens National Bank, student winners will be recognized in the vast competition categories.
The Bossier Press-Tribune is the proud media sponsor of i3 Art Expo and has published a special pull-out section in the May 2 edition. It gives a comprehensive look at the Bossier Schools' public arts festival. You can visit their website for updates on the event.
Amanda Simmons is the Community Editor of the Bossier Press-Tribune