Ready or not, here it comes!
The first day of school is quickly approaching. Bossier Parish students will return to classrooms Wednesday, Aug. 8, and it's sure to be another exciting year for the district.
With the summer clock ticking down, it's time to prepare for what's to come – (very) early mornings and late (late) nights, piles of homework, rushing out the door for extracurricular activities and practices.
Let's face it…switching from a summer schedule to a school schedule can be stressful for everyone. Don't stress. We're here to help!
It's time to make a list and check it twice to ensure the new school year starts off nice. Here are some ways parents can prepare for the upcoming year:
1. Get organized
The best way to prepare for back to school time is to be organized. With school comes a massive amount of paperwork which can consume your household. Designate a spot in your house for homework, permission slips and any other school-related papers. This can help eliminate all of that paper clutter and make your life less stressful.
2. Get back into your sleep routine
To help eradicate those stressful school mornings, set up a regular bedtime and morning time routine to help prepare your child for school. Begin your usual school sleep routine about a week or so before school starts. This one may be quite a task after those late summer nights, but getting those extra hours of sleep will be beneficial for your child during the school day.
3. Make an after-school game plan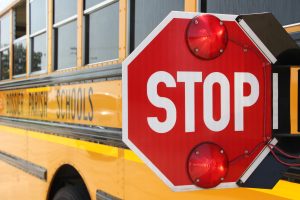 It's important to know where your child will go after school lets out for the day. Depending on their age, figure out if they will go to a neighbor's house, an after school program, or be allowed to stay home by themselves. This will help eliminate any confusion during the first few weeks.
4. Find your school
If you're new to the area or recently moved to a new part of the district, try to visit your child's school in advance. If your school hosts an open house, be sure to go. Familiarizing your child with their new environment will help avoid a nervous stomach on the first day. The Bossier Schools website has a 'My School Locator' and 'Find My Bus' tool that are both accessible from their main page. Also, read through the school handbook. This will answer many questions that may arise over the year. You can also check out our blog on, "How to enroll your child in Bossier Parish Schools" as an added resource.
5. Talk with your child about school
Make positive comments about school. Your good attitude will make an impact!! Show excitement. Emphasize the positive things about going back to school, such as hanging out with old friends, meeting new classmates, buying cool school supplies, getting involved in sports and other activities.
Sounds pretty easy, right? A little preparation before the big day can go a long way in easing your child's transition back to school.
And remember – the Bossier Schools website is a great resource to utilize throughout the year. It can answer a majority (if not all) of your general questions.