Summer is just about over and the start of a new school year can be hectic. Everyone's adjusting to the faster pace of new back-to-school schedules. It can be a bit overwhelming for mom and even dad is feeling the stress too. So wouldn't it be great if you could just take a few minutes or even a couple hours to escape for a little solitude and some self-indulgent pampering? If you think it's impossible, then all you need to know is two words: day spa.
A day spa is a place where you can take a short escape to relax and there are a number of options available in Bossier City. But if you're not familiar with the day spa concept and not sure where or how to begin, the following are some tips from owners of two popular day spas in Bossier.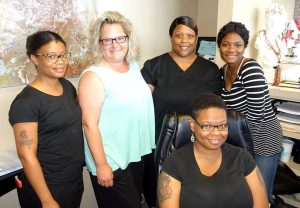 Kandie Winchester, co-owner of Destiny Day Spa and Salon located in the East Bank District, shares her thoughts on why you should consider visiting a local day spa.
"We all live such fast paced, goal oriented lives that we really all deserve to experience something that will slow our minds," Winchester explained. "We need something to take away the stress and make us look and feel our very best and a trip to a day spa can do that."
Deedee Nguyen of Serenity Spa and Nails on Beene Boulevard in North Bossier agrees that going to a day spa or nail salon is all about the experience.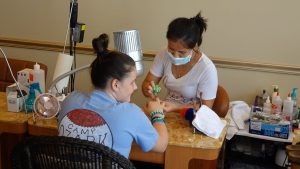 "We have regular customers coming in from all over, many from out of town simply to relax," Nguyen said. "Most women come in for the mani or pedi services, to get their nails done to have them look pretty."
With so many things to choose from, there's a lot to consider with various options of treatments ranging from different lengths of time and costs. Every day spa and salon specializes in different things. Serenity Spa and Nails focuses on spa services like manicures, pedicures, hand and foot massage, foot baths and nails.
"We offer things like the mani/pedi services, hand and foot massage, exfoliation and relaxing salt foot bath," said Nguyen.
Destiny Day Spa and Salon's services menu includes hair, custom nails and waxing as well as clay hot pack treatment, Swedish massage, facials, manicure, spa pedicure and essential oils. Lunch is offered for some spa packages.
"It is really about what you are looking for that day; a quick lunch manicure or pedicure, a facial to hydrate and brighten your skin, quality hair care, or maybe some pain relief for your aching shoulders," Winchester said. "Or maybe you'd like a relaxing couples retreat."
As pointed out, day spas aren't only for ladies as men have discovered just how relaxing and beneficial the services can be. In fact families and friends have even come together as groups to take in a special spa day.

"Some of our guests come with friends or as couples as we can accommodate groups and have so many 'Couples Packages' and it makes them more comfortable."
And don't think Day Spas are a short-term fad as Bossier's population continues to grow, the future looks bright for these services.
In fact, Spa Concepts AVEDA Lifestyle Salon and Spa recently opened its newest location in North Bossier. So whether you're looking for a short visit to have your nails done or seeking a longer, relaxing massage, manicure, pedicure or facial, you'll find plenty of day spa and salon choices in Bossier.
Destiny Day Spa & Salon
Location: 707 Barksdale Blvd.
Contact: (318) 752-2639
Serenity Spa and Nails
Location: 2656 Beene Blvd
Contact: (318) 746-8727