As fantastical as it sounds, a children's book about a dragon chasing his dream of being a firefighter is a case of life imitating art. Bossier City firefighter Adam MacDaniels' book about not giving up on your dreams is best exemplified by its author.
"The idea took a day, but it was three years to complete," Adam said. "I knew at 16 I wanted to be a published author and I chased that dream for 18 years before it was realized."
But he points out that the best stories write themselves and said that's what took place with "Hotshot Bernie." The book really came to life when Adam told a fellow fireman and artist about the idea and he quickly sketched out a baby dragon staring at a fire helmet.
"I thought, 'A dragon who wants to be a firefighter, surely that's been done before,' and it had, but not how I saw it in my head. It's a good story — the conflict is in his character. And what makes a good story is conflict."
The story's theme is dreams come true in ways you don't expect. He credits that to his wife who had just given birth to their second child after seven miscarriages and a battle with kidney failure. He said watching her overcome her those obstacles to see her dreams come true in ways she never expected gave him his theme.
"Watching her become a mother was hugely inspiring, she's one of the reasons why I wrote this book," Adam said.
The theme is also an apt one considering that Adam's journey to being a published author wasn't exactly how he saw it. His first love, and attempt at writing, was a novel. Although "Hotshot Bernie" is not that, the idea for it was one that he just couldn't get out of his head.
"I thought about kids books and what my favorite book was when I was a kid and I thought about There's an Alligator Under my Bed," Adam said. "I wanted something simple with an engaging story, similar to what I loved as a child. It was my chance to bring that story from my childhood back and share my own version of a story that I loved."
It's even more fitting when Adam revealed his passion for writing started with his father reading to him as a child. Absorbing stories like The Lord of the Rings trilogy, Adam fell in love with stories and ended up memorizing them. It stayed with him until one day in his teens, he finished a book and said to himself, "I could do that. It doesn't seem that hard."
How wrong he was.
"It's a very hard journey. I've wanted to quit many times and there's definitely a spiritual aspect to it, because every time I wanted to throw in the towel, something said, 'You're not done.' And it was God. My Uncle, my spiritual mentor, said 'A dream in your heart is a promise from God.'"
It's an usual path from the dream of being an author to a firefighter. But it comes down to Adam finding a second love, which was also gifted to him by his father who told him stories from his career as a wildland firefighter in Oregon.
"I couldn't go to college to be an author or walk into a business and get hired as an author. After bumping around college, I went into the Navy, got in the Rescue Swimmer Program and that taught me emergency medicine. When I got out, I knew that's what I wanted to do."
Adam described himself as weird creative spaz who never planned on being a firefighter, but the Bossier City Fire Department won him over. And their camaraderie also played a part in inspiring his book.
"It really is a brotherhood," Adam professed. "They love me and they're my family. That was a huge thing, because when Bernie gets to where he wants to give up on his dreams, it's his fire family that won't let him give up. That was a huge inspiration on my story."
Everything for "Hotshot Bernie" came together when he found his illustrator, Jaclyn. How that happened lends credence to Adam's belief in divine provenance.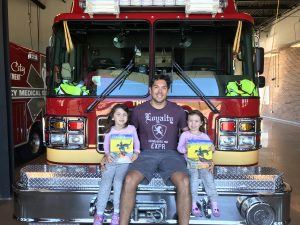 "I met Jaclyn's sister while working at Life Air. Jaclyn and I were introduced via text and I've never met her in person, she lives in Maryland. But her sketches were perfect, they were exactly how I saw it in my head," he said. "None of this would be possible without her."
Now, Adam visits schools in the role of his two beloved professions — giving fire safety lessons and reading his book that urges them to follow their dreams.
"It's like Dave Ramsey said, 'It's often not the best or the brightest, it's the one that never gives up.' Chase that dream. Don't give up."