Tis the season to be thankful! With Thanksgiving right around the corner, Bossier residents are
reflecting on the many things in their lives that they're thankful for this holiday season. Check out these
five things that some people in Bossier are thankful for.
1. Cuddle Buddy
Jordan Short, a Bossier Parish native who resides in Haughton, LA, is especially thankful for her boyfriend who she just recently celebrated an anniversary with.
"I am thankful for my amazing boyfriend and our families and friends that we get to bring on the eating season with! This will be our second Thanksgiving and Christmas to celebrate together," said Short. She's looking forward to wearing her sweatpants to Thanksgiving dinner!
2. Mommy Dearest
Brooklynn Oney from Bossier City is looking forward to spending Thanksgiving with her family,
but especially her Mom, who has been battling Leukemia for the last year and a half.
"I'm thankful for being able to spend the holidays with my family and friends, but especially with
my Mom who has just recently undergone a bone marrow transplant. I'm thankful for the
doctors, nurses, and anyone else that made her being here with me possible," said Oney.
3. Fur Babies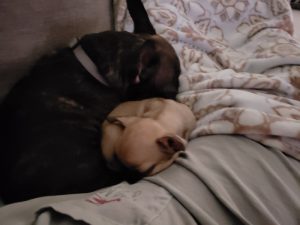 Morgan Hope of Bossier City is a proud Dog Mom of a French bulldog named Diesel who just got a little twin brother just in time for the holidays! She is very thankful for her two Frenchies this year.
"Thanksgiving is the time of year that reminds us all that during our busy schedules, it is important to always be grateful for family and friends that support us the most. But this year,
I'm happy to have my two puppies to love on and spoil this Thanksgiving," said Hope.
4. Football!

Brandon Hughes of Bossier City is very thankful for the Thanksgiving season because that means football!
"My girlfriend and I love watching LSU Football together, so I'm really thankful we're able to spend time doing that and cheering on the Tigers and Coach Orgeron! I also love supporting Tom Brady and the Patriots when the NFL games are playing. Sports are definitely something I'm always thankful for," said Hughes.
5. God
Charnell Peoples, a happy wife and small-town mother of two from Haughton, loves spending
quality time with her family making unforgettable memories. Working, taking care of two young
girls, and being a wife definitely can wear a woman out, but she realizes how much she truly
must be thankful for everyday through her faith.
"I am most thankful for the blessings that God has given me that I didn't even know I needed,"
said Peoples.
There are so many reasons to be thankful everyday and these Bossier residents have shared
some great reasons for being thankful this holiday season.