With growing emphasis on the need to train and build the next generation workforce for Bossier, someone behind-the-scenes has to do the heavy lifting. One of those people is Beonica Frazier, Project Director for Work-Based Learning & Apprenticeships programs at Bossier Parish Community College.
Beonica Frazier, grew up in Hawkins, Texas and graduated from Stephen F. Austin University with a B.S. in interdisciplinary studies. She previously worked as director of a child care center in Georgia, gaining a lot of experience managing grants.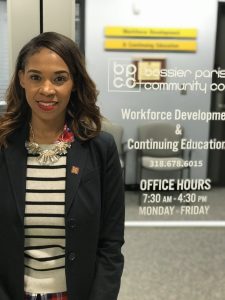 After moving to the area five years ago, Beonica a saw a position at BPCC to work on a grant to develop programs in the Technology Engineering and Mathematics (TEM) Division. That project has now landed her in the role of Project Director for Work-Based Learning & Apprenticeships programs.That means Beonica serves as a liaison between business, civic partners, and BPCC faculty and administrators to facilitate the growth and expansion of apprenticeships and other work-based learning opportunities for students. She is responsible for effectively integrating employer's criteria and job requirements for apprenticeships and work based learning programs with academic/educational programs and curriculum.
It all works towards the goal of providing students with opportunities to gain valuable job skills and giving employers a pipeline to a talented workforce that meets their needs.
"It's like my career has evolved throughout the education system, laid the foundation in early childhood, begin constructing the walls in elementary education and now I get to complete the project by linking people to careers," she said.
Her division is continually working to be a solution for the businesses and people in the community.
"As the economy continues to grow, business leaders across all industries will need a pipeline of skilled workers to help them take their companies to the next level," Beonica said. "Apprenticeships serve as an opportunity for businesses to develop talent that's unique to their industry. An apprenticeship program is a strategy that can be used to make higher education accessible to more students by expanding the potential student base to all working students, particularly adult learners."
Beonica shared a recent success story involving her work on a STEM division grant that gave her the opportunity to advise and coach students. In early December, one of the first engineering students she worked with through that grant graduated.
"I met him at the Nike store on the Louisiana Boardwalk when I first moved to the area five years ago. He was an accomplished soccer player from Mexico and managing the store. A few years later he walked into my office at BPCC looking to pursue an engineering degree. Semester after semester, I watched this guy knock down not only developmental math, but four levels of calculus. There were other life challenges along the way, but every semester he came to me with a smile on his face and determination in his heart ready to take on the next set of courses," Beonica revealed. "I'm beyond proud of this special person who demonstrated how having a growth mindset is the key to success. He now knows not only the he can do it, but he is doing it. It is great to help students and people in the community achieve their goals while proving that Bossier City is oozing with talented, well educated, ready to work individuals."
Having spent the early part of her career in early childhood and elementary education, Beonica loved giving students opportunities to think and explore, and says the beauty of transitioning into higher education is having the opportunity to see how critical those early years are to the development and success of people.
She says being able to "touch" the people she serves is her favorite thing about her position.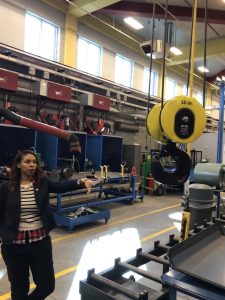 "I am in education because of people and I love it!" Beonica exclaimed. "I like being able to hear a need and begin to connect the dots. In my role at BPCC, I have had the privilege of being part of the development of programs that gave individuals a chance to 'achieve life.' Many people in our community need a chance to reach their potential and often times that comes in the form of someone having vision and passion for people."
She noted that BPCC is the "Community's college," serving the entire northwest Louisiana region with associate degree programs and numerous certificates which prepare students directly for the workforce or assist them in continuing their education. And if students choose to transfer to a 4-year school, BPCC has agreements with universities across Louisiana allowing for a seamless transfer of coursework.
"Bossier Parish Community College is a great place to work and I have met many lifelong friends here and feel as though we are a huge family. Education is a service industry and the people at BPCC get all fired up about the work that we do," Beonica said. "One of my favorite quotes is 'Educators turn mirrors into windows.' When you see individuals begin to open their minds to the potential ahead of
them? Wow, so rewarding!"
When she's not hard at work connecting students to the business world, Beonica enjoys spending time with her friends and three children — Derrick Jr., 19, student at LSU Baton Rouge; Rhian, 13; and Karrington, 11. She also likes shopping, working at her church — Celebration Church in Shreveport — playing basketball, volunteering as a member of the North Louisiana STEM Alliance, traveling, and volunteering as a Bossier Chamber of Commerce Diplomat.
Coming from a small town in Texas and spending time living in the Dallas area, Beonica said Bossier City provides her with the best of both worlds. And she notes that Bossier's business community is progressive and open-minded.
She said that most businesses are excited to collaborate with the education systems to ensure that local citizens have access to the most relevant and innovative training.
"These contributions to our education system show their commitment to the continued growth of Bossier. Having a highly trained workforce is paramount to the continued success of a city and I love being a direct partner in these efforts," she said. "New companies can come to our area and know that they will have access to training and development programs to support their businesses."
Want to read more about people who are lovin' their job in Bossier? Check out last month's blog on Chris Sepeda at the Bossier Press Tribune.