Some artists know from the beginning they are going to try and make their living selling art, but some form their careers doing other things and then find their way back to creating.
Bossier Artist Rusty Carter is one of these people. Born in Bossier Medical Center and raised in Plain Dealing and Benton, Carter bartended, waited tables and even did construction before establishing his career as an artist. 
"I tried a bunch of different things because I wanted to find out what I liked and what I wanted to do," Carter said.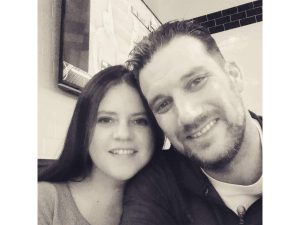 The Airline High grad did home remodeling for 10 years in Bossier. He says that was his creative outlet at the time. He did custom showers and helped design the look of the houses he worked on. However, he knew when it was time to move on to something else.
"I married a great woman and as she progressed in her career she could tell I was getting burnt out doing house remodeling. I hit that wall where I just wanted to do something else."
So about 4 years ago, Carter's wife suggested that he take a shot at selling his art. Shortly after, he was invited to an art show where he sold a majority of his paintings.
"Since then it has been non-stop. Honestly, I feel pretty blessed. It has been opportunity after opportunity."
Carter, who is without formal art training, likes to joke that he was trained by Crayola.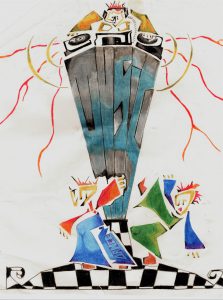 "I've been drawing since I could remember," he said. "I don't know what most brushes do. I just paint with whatever is around. Untrained and untamed is what I tell everybody."
This artist's completed art projects range from large murals for Bossier businesses like Fat Tuesday's to sculpting, painting and drawing smaller pieces. He loves getting to create every day.
"It's therapy for me and it's a great release. When you feel inspired as an artist, I think you have no choice but to create."
In order to make a living creating art, Carter says you have to find a balance. You have to be mindful of what sells and what the customer wants. However, he tries hard to allow time for pieces that are purely born of inspiration. He also says that he doesn't let money determine if someone can own his art or not.
"I think anybody should be able to own art. I probably give away as much art as I've sold. Art is a form of communication. It makes people feel things."
For about two months now, Carter has established a working studio within C&C Mercantile on Line Avenue in Shreveport. He loves the atmosphere there.
"People know there is going to be art there and talented people are going to be all in one area. They have a great family atmosphere and they really care about the community."
As a prior military member, Carter is passionate about helping organizations like the Bossier Chamber's Military Support Foundation. In the future, Carter dreams of giving free art lessons to the community. He feels blessed to be able to do what he does and he wants to share his talent.
"I want art everywhere I go. I think art is a great way to inspire children and strengthen creative thought."
Carter attributes much of his success to his supportive wife and three daughters.
"Without all four of them, I wouldn't be able to create what I create."
As an artist, Carter is always working on new projects. He wants to make a full print company and has already bought all the equipment needed to be able to print custom t-shirts, banners and signs. He hopes to help print for himself and other local artists, as Bossier's art scene continues to grow.
"You could stop every couple of blocks and find talent in Bossier."