It's summer and that means it's vacation time! But maybe you can't leave Bossier? Not all vacations need to be out of the country, state, or even town. There's plenty of fun and relaxation to be had spending a day or two off visiting local attractions in Bossier. So let's see our itinerary for the ultimate staycation right here in Bossier:
Margaritaville

Your first step on a staycation should be to get out of the house. Why not try an island-resort getaway like Margaritaville Resort Casino in Bossier. You can take a fulfilling staycation at Margaritaville and never leave the property. Their property features 395 rooms to choose from, 30,000 square feet of gaming space, and amazing amenities. They include a second floor pool overlooking the river, a spa, a free gym, and 7 restaurants/bars to choose from.
My suggestions are to start your day at the gym with a morning workout, head to the pool for some fun, take a trip to the spa for a massage and complimentary mimosa, followed by lunch at Riverview Brewhouse, rest up in your room with Netflix on the complimentary WiFi and a nap on your spacious bed, followed by dinner at Jimmy's Seafood & Steak. What a relaxing day all in one place!
Louisiana Boardwalk Outlets

If you do decide to take a break from Margaritaville, you will find that almost in their parking lot is one of not only Bossier's, but north Louisiana's, prime shopping spots. The Louisiana Boardwalk Outlets lies on the Red River anchored by the state's first Bass Pro Shops Outdoor World. The boardwalk features more than 50 stores and restaurants offering a wide variety of shopping and entertainment for the entire family.
From national chain outlet retailers to locally-owned favorites, I always encourage a trip to Rocket Fizz, a gigantic candy store, and the Chocolate Crocodile, a local sweets shop known for their variety of dipped apples and treats, as well as hitting up the Nike and Banana Republic outlets.
Bayou Axe Co.

Not too far from Margaritaville and the Boardwalk lies Bossier City's East Bank District. One of the main tenants of the entertainment district is Bayou Axe Co. Opening the first of 2019, the indoor axe throwing venue is a rarity for not only Bossier, but the state. You can throw axes at a wooden targe. It's a bit of a rush. But the great part is they offer food service and a bar. Their partnership with neighbors BeauxJax Crafthouse allows patrons to take a break from throwing axes and order some cajun food right there and have it delivered.
They also just installed the first Zamboozy machine in Louisiana, which uses Great Raft Brewing's beer to make what is essentially a beer slushie. I highly recommend sipping on a Zamboozy while chucking axes and taking a break to snack on a bourbon street chicken po'boy.
Flying Heart Brewing and Pub

Arguably the first tenant of East Bank, Flying Heart Brewing moved in and converted a historic fire station to a brewery. They have since expanded to offer homemade pizza, cocktails and non-alcoholic beverages. Known for their signature brews and pies, it's just a short walk down the street from Bayou Axe to Flying Heart to meet some friends, watch a game, or just hang at the bar and talk to locals while sipping on a Day Wrecker or Six of Hearts. And if by some miracle you're still hungry, try a Meat Jeffro or Shrooms and Sausage pizza.
North Bossier Park
So a lot of the activities on this staycation have been indoors. So if you want to get outdoors, there's no better place than North Bossier Park. Right on the outskirts of Bossier City limits, the park offers a spray park and playground if you're bringing the kids along.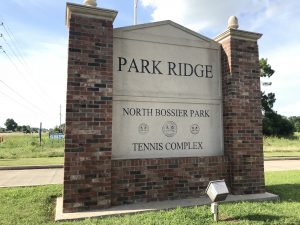 If you want to break out of your normal fitness routine, there's plenty of options — spacious fields allow for playing just about any game you can think of and they also feature soccer goals, while there's a 3/4 of a mile walking track on the edge of the park. Park benches dot the landscape, with some in a wooded area where trees act as a grove for shade in case you want to have a picnic. I enjoyed heading up to the park later in the evening after it cooled off just a bit and taking a light jog around the track.
Silverstar Smokehouse 
Opened by local restaurateur David Alvis, Silverstar Smokehouse grew out of a vacant property and an abandoned building located at the corner of I-20/I-220, and Highway 80. What was once a shutttered, uninhibited property has evolved into a landscaped, thriving business offering up renowned barbecue.
But what really sets Silverstar apart is its concert venue The Stage. Host to several acts from country to alternative rock, The Stage allows a fantastic dinner and a high caliber show all in one place. Concerts and events do range in dates and times, so be sure to check out their website for listings and to buy tickets. When it comes to the food, I enjoy their Super Spud, which is a ginormous loaded baked potato filled with the meat of your choice.