While places in Bossier have a ton of things for parents to do with their kids, what about the parents who don't have…human kids? Pet owners are in luck as Bossier has started adding more dog friendly places.
Various restaurants with patios don't mind if you have a leashed dog, while the East Bank District is an area that was designed to be walk-able and social, for both people and their dogs. There's also events throughout the year that are dog-friendly.
So, what locations are dog friendly? Well it varies from business to business and event to event, but two very vocal supporters of pet parents and their fur babies are the Bossier City Farmer's Market and Flying Heart Brewing and Pub.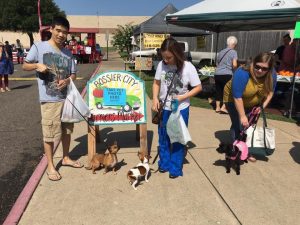 Chris Graham, organizer of the Bossier City Farmers Market, said the market is "absolutely" dog-friendly. In fact, they offer an annual event for dog owners. The "Dog Days of Summer" is held the first Saturday in July to emphasize that leashed pets are allowed outside Pierre Bossier Mall because it is on private property.
"We are the only pet friendly farmers market in the area, and we celebrate annually with this special event," Graham said.
Ben Pattillo, co-owner of Flying Heart Brewing and Pub, said their business started out being dog-friendly. Now, they have a beer garden located behind the storefront that caters to dogs and their owners.
"We started as open air and before we had a full-time kitchen, we could have dogs throughout the brewery. As we grew, we wanted to make sure our beer garden stayed pet friendly because we like having the little furballs up here," he laughed.
Ben said their reason for staying pet friendly is simple: They love dogs. And, he thinks that leniency on pets has helped their business by endearing them to their customers.
"Lots of people are real attached to pets so if they can take their pets with them when they go out to eat, it's a cool experience. Very few places you can take pets with you when you go out to eat," Pattillo said.
Jamie Green is a Bossier City resident who owns two dogs and says the perfect dog-friendly thing to do in Bossier is to take a walk in one of the area's parks, noting that some even have bags for cleaning up messes and trash cans conveniently placed along trails.
She also notes that events like the Krewe of Barkus and Meoux Mardi Paw Parade is unique for the area by allowing pets and their owners to socialize their animals and meet other pet owners.
But her favorite place to visit in Bossier with her dogs, Ellie and Muffin, is the North Bossier Park.
"It's close to my house so I don't have to drive far and the walking trail is really nice. There's a shaded area with trees and picnic benches so my dogs and I can take a break when it's hot out," Jamie said.
Her favorite thing to do with her dogs when she's out and about is, believe it or not, run errands.
"As silly as it may be, I like to take my dogs with me when I am running quick errands," Jamie revealed. "Like, I run to the bank with them because my bank has treats in the drive through for customers who come through with their dogs."
She says Bossier is a good place for dog owners because of the accepting atmosphere and that many businesses don't mind if an owner stops by with his or her dog.
"I think a lot of places enjoy it when you stop by with a pet because it breaks up the monotony. I take my dogs for a ride when I'm running errands, and if people at the business see them, they get excited or want to pet them," Jamie said. "Maybe it's the Southern Hospitality in Bossier or people just like dogs, but many employees and customers always get so happy when I have my dogs with me."
Kim Zuniga, owner of five small dogs — Milo, Evie, B., Charlie, and Santana — says that Bossier has several restaurants that are super dog friendly.
Unfortunately, her busy lifestyle means her dogs don't get to go exploring the town as much as she'd like. However, when she does get to go out with her dogs it's usually to big dog events such as Barkus and Meoux.
"I love the interactions my dogs get with other dogs or kids!" Kim exclaimed.
While she says Bossier is a great place for dog owners, she does wish there was more. She wishes more restaurants were dog friendly, even saying a menu for dogs would be a nice addition, adding, "I went to Virginia and they had a cute outdoor patio that also served boutique dog food. That would be really great!"
Alyssa Kathleen Heistuman owns two dogs and takes them to the Bossier City Farmer's Markets and events at the East Bank District, as well as a couple of dog-friendly restaurants.
"We also love to walk along the Arthur Teague Parkway," she said. "My dogs enjoy just going for a ride or a walk. We like to go places with steady flow of foot traffic because they like the attention."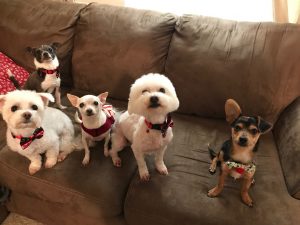 She says that coming from the West Coast, she thinks Bossier could step up its dog-friendliness overall, but she does appreciate the places that currently allow dogs.
"I would love to see a Bossier dog park, more dog-friendly patios at restaurants and coffee shops, and even a doggy cafe would be fun!" she exclaimed.