Bossier is home to many businesses and business owners. Some saw an opportunity and moved to the area and others, like Alexis Balentine, are homegrown.
A product of Haughton schools and 2012 business school graduate of LSUS, the 29-year-old manager of Balentine & Co. Jewelers lives five minutes from her childhood home with her husband and two children. When she's not working at the store or at church, where her husband is a pastor, she enjoys the simple pleasures of spending time at home with family and friends.
"I am now the manager which just means I play whatever role Dad wants me to that day — some days that's bookkeeper, marketing director, HR, social media, manager, interior decorator, or purchasing director," Alexis said. "One day I'm a 'gopher' and the next I'm the 'boss.' It definitely never gets boring!"
Balentine & Co. is a family-owned and operated full service jewelry store that strives to meet any jewelry need from repairs, custom, appraisals and more. Opened by Alexis' dad in 1996, she has been in and out of their store since the age of six. 
"So, when people ask how long I've worked here, I have a tough time answering," she laughed. "What little girl doesn't want to play with jewelry and diamonds all day?! I fell in love with it from an early age, and now I get to play dress up for a living."
Here are some fast facts about Alexis & her job:
Alexis says she loves working with family, noting she and her dad have a great relationship. She added that being able to bring her son with her to work for his first three years and now again with her new baby girl is priceless and better than any paycheck.

Alexis wants people to know that running a small business is personal. She says that many people always warn business shouldn't be personal, but to her and her family, it's the most personal thing. She notes they all take so much pride in what they do and in the pieces customers allow them to create and care for. 

Her favorite things about working in Bossier are that, first of all, it's home. But also the "caring, genuine" people of Bossier.

Alexis says that Bossier has a growing, supportive, and encouraging community of local businesses. She notes that now is an exciting time to be a part of Bossier's business community.

One of the many

times that made Alexis realize she loves her job came recently after having her second child in August. She realized that she doesn't just get to be part of her customers' lives, they get to be a part of hers. She said several customers have shown up with gifts, like hand-knit blankets, and their congratulations.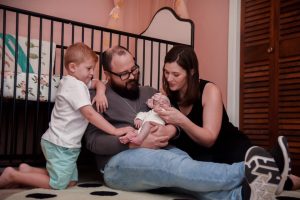 Alexis says what sets Balentine apart from the online retailers is being involved in the lives of their customers. She says they take joy in helping them celebrate the big and small moments — seeing them fall in love, get married, have babies, graduate, and celebrate anniversaries and birthdays.
Looking ahead to the next five years, her plans are simple: Stay right where she's at. Alexis said the store may look different as they're consistently growing, but they have no plans to go anywhere.