When people think of towns or cities in Bossier Parish, they often gravitate towards Bossier City, Benton or Haughton. But in the northern portion of the parish lies one of the area's most historic communities that blossomed at the turn of the 1900s. Plain Dealing began life as a plantation in the mid-1800s and in less than 100 years had grown to be a bustling town. Let's take a trip down memory lane to see how the community began and has continued to evolve over the last 128 years.
Honesty & Integrity
Plain Dealing was settled by George O. Gilmer in 1839 with the establishment of Plain Dealing Plantation. The town and plantation were both named for honesty and integrity. The Bossier Banner published a letter by G. E. Gilmer in July 22, 1937 saying, "The name Plain Dealing is typical of the character of the (plantation's) founder. It is said of him that he never traded or bartered, but he sold the products of his farms and bought his needs in the regular channel of trade."
The Plain Dealing Plantation originally contained five thousand acres of Red River land, which George O. Gilmer divided into three large plantations and gave to his children. Other settlers from areas such as Mississippi, Alabama, North Carolina, South Carolina, and Georgia followed, setting up communities within a 10-mile radius of present Plain Dealing. The early settlement years revolved around farming.
S.J. Zeigler, a prominent businessman, came to Bossier Parish around 1870 when he married a descendant of the Gilmers who had inherited the Plain Dealing property. When the St. Louis Southwestern Railway proposed to build a branch line from Lewisville, Ark., to Shreveport, Zeigler realized a town was needed to serve the Bossier area and selected the Plain Dealing site.
Lots for the town were sold on July 25, 1888. Despite being known temporarily as Guernshein, after the name of a prominent railroad company stockholder, the town's name was soon changed after the Gilmer Plantation. The town was chartered April 24, 1890, with a total population of less than 100.
W. Benton Boggs: First Mayor of Plain Dealing
The first mayor of Plain Dealing was W. Benton Boggs, who took office on April 5, 1890. He was one of the first and largest buyer of lots in the land sale. He went on to become a state senator and was an organizer and president of the town's first bank, chartered in 1904.
Plain Dealing's mayor from 1908-11, M.C. Wright, installed the town's first electric light and power system. In 1925, Clarence Bolinger purchased the power plant and installed the first natural gas system. In 1928, the village of Plain Dealing was charted as an incorporated town. Curbs and gutters were added to the streets, concrete sidewalks replaced planked walks. The water and sewer system were installed in 1929.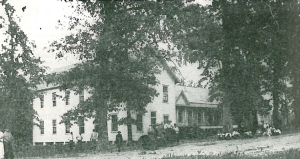 The first school was Pioneer High School, opening near the current site of Plain Dealing High School, on Dec. 19, 1888. The first principal was Joseph E. Johnston. In August 1898, the school was purchased by the mayor and was donated to the Bossier Parish School Board in the early 1900s. The school grew and a wing was added in 1902 and another story was added in 1907, being renamed Plain Dealing High School that same year. A new school, the first brick school building in Bossier Parish, was built in 1921. After consolidation efforts in 1926, an $80,000 bond issue resulted in the construction of a new school high school. A new brick building to house grades eight to eleven was completed in 1928 and another 10 years later to house upper elementary.
The first businesses in the community were G.W. Jones Store, Hall and S.J. Caldwell Livery Stable, Carol and Smith Architects, T.M. Love Lumber Company. Other early merchants included J.J. Swindle Drug Store, Kelly Brothers, and even the first hotel owned by J.P. Keeth.
In 1910, the Walker brothers, Elmer and Johnny, bought a store and opened Walker Brothers Drug Store. In 1914, the brothers built the building the store currently occupies, which was run by current Plain Dealing Mayor David Smith until last year. However, he still works there part time.
"We've been here 108 years. I sold it and now I work here two days per week," Smith said. "We are one of only two independently owned and operated pharmacies in Bossier Parish."
Businesses, banks, car dealerships, grocery stores, hardware stores, and even the first elevator in Bossier Parish all moved into the town over the next 80 years. With the decline of the railroad and the location of Barksdale Air Force Base in Bossier City, things began to slow down in Plain Dealing and the center of the parish became Bossier City.
Now it has evolved into what Smith called a bedroom community.
"We have people who live here and drive into Bossier City to work," Smith explained. "We're seeing older people who are ready to retire, and buy something where the cost of living is not bad and settle in for the rest of their lives."
Current Day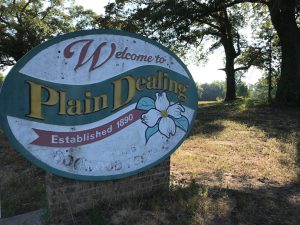 Plain Dealing is no longer the bustling hub of Bossier City, but Smith believes that as Bossier City continues to grow, it will head north and Plain Dealing will see the benefit of that.
"We have seen Bossier City grow north and you can't hardly tell Benton from Bossier now. We've seen a lot of growth on Old Plain Dealing Road. I think you'll continue to see that growth but you're limited to where it can go, so most of it will come our way," he said.
The town's population hovers right around 1,000. However, Smith points out that the subdivisions outside the city equal another 1,500 people in the area. Public safety consists of a volunteer fire department and a town marshall with four deputies.
The town is now a timber-dependent economy.
"We have a lot of loggers and our two biggest employers are Bossier Parish Schools and Whispering Pines Community Care Center," Smith said. "We do have an industrial park with one rented building right now."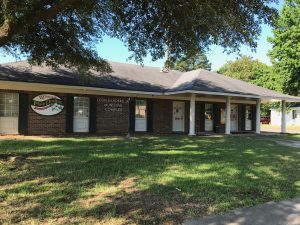 Smith has lived in Plain Dealing for almost 40 years, moving to Plain Dealing in 1979. He was first elected mayor in 1999 and served three two-year terms before he bowed out, choosing to run again in 2016.
"I never wanted to move anywhere big and have lived here for 20 years. I always thought it was a good place to raise your kids. I raised two daughters here," Smith said. "I know everyone and our government runs efficiently. One good thing about us as opposed to a lot of other little towns is that we don't have a lot of debt we're having to pay off."
"Being mayor gives me something else to do to help our town. I want our town to be successful and we all need to take part in that," he added.
Unless denoted otherwise, all historical info was summarized from "The First 100 Years: A History of Plain Dealing 1890-1990" produced by the Town of Plain Dealing's Centennial Committee